Article by Stuart McKinnon courtesy of the West Australian.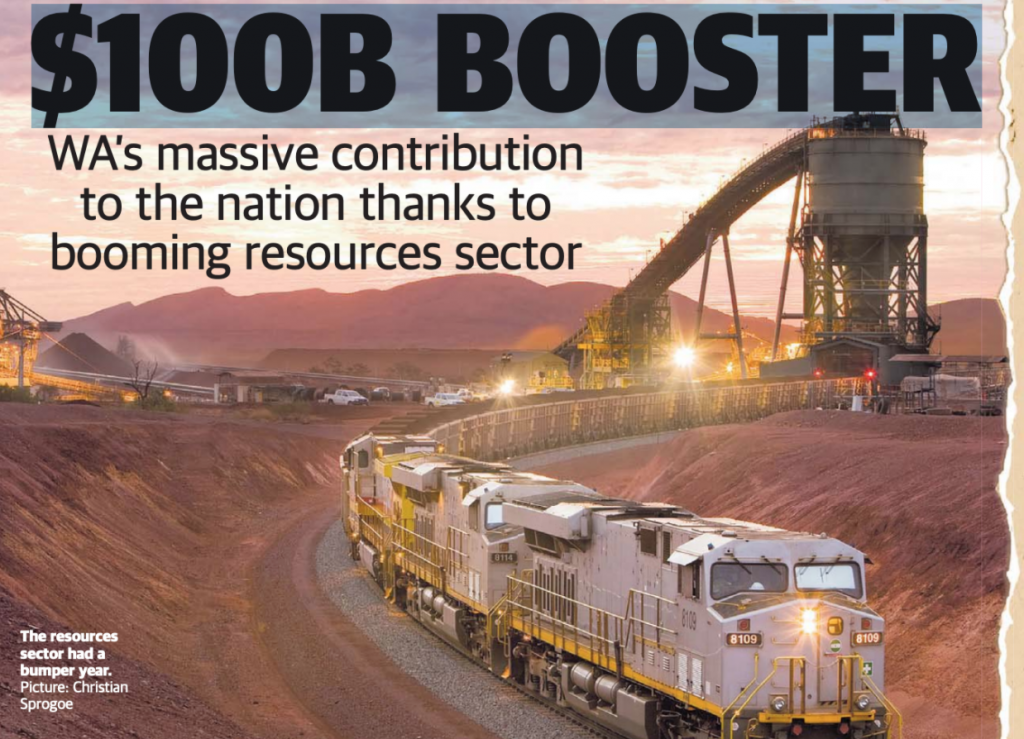 Survey highlights growth in WA resources sector's economic contribution
WA resources companies contributed $100 billion to the national economy in 12 months, according to an industry survey that the peak body says is proof of the sector's overwhelming influence on the nation.
With rising commodity prices expected to help underscore Australia's economic position in Tuesday's Federal Budget, the results of the WA Chamber of Minerals and Energy survey released on Sunday reveal WA companies' contribution increasing $16b in 2020-21 compared to the previous year.
Among Treasurer Josh Frydenberg's pre-Budget publicity blitz this month was an interview with The Sunday Times in which he praised WA's contribution to an improved fiscal balance sheet via higher iron ore prices.
At a State level, the 56 respondent companies added $61b to WA's coffers, an increase of $9b from the year prior. The iron ore price boom has translated to a State Budget surplus expected to top $5b.
The results also come amid growing disquiet among Eastern States premiers about the GST deal struck between the Federal and WA Governments. Despite the lobbying from other States, both the Coalition and Labor have committed to the deal with WA – which, if not renegotiated, would have seen WA's share of GST slump to 16c in the dollar.
The companies that participated in the CME's survey represent 70 per cent of the WA resources sector by production.
The survey found the reporting companies paid more than $12b in wages to 70,396 full time workers, up $2b on the previous year.
More than $52.5b was spent by the 56 CME member companies on purchasing goods and services from more than 18,700 businesses, up on the 14,500 businesses supported the previous year. That spending was also shared by more than 1100 community organisations and 85 local governments across Australia.
Nearly $11b was contributed in State Government payments, up from $7b the previous year, with more than $24b contributed to the Federal Government, up from $18b in 2020-21.
CME policy and advocacy director Rob Carruthers attributed the rises to healthy commodity prices, production volumes being maintained or increased and continued expansion of employment and local business spend.
The number of reporting companies was down slightly, from 65 in 2019-20, but Mr Carruthers said the data provided a telling snapshot of the day-to-day impact of the WA resources sector on economies and communities across Australia.
"It's reasonable to make the comparison, it's just not a direct comparison," he said.
Mr Carruthers said the gain across the sector had been achieved amid the State facing the dual challenges of managing COVID and responding to a skills squeeze. He praised industry staff for their work.
"They haven't just got the job done, they've doubled down when the sector needed them most, and this economic contribution data reflects that," he said.
"Our sector supports close to one in four full-time jobs in WA and at least one in 16 WA businesses have resource sector companies within their customer bases.
"It's not hyperbole to say that every community in WA has local people living there who work in our sector, and local businesses who benefit from and supply goods and services to it.
"With more than $127b of projects under development in the WA resources sector pipeline, these types of contributions should continue to flow through for decades to come."