11 December 2015
Julie-anne Sprague
The Sydney Morning Herald
Mining magnate Andrew "Twiggy" Forrest has welcomed Gina Rinehart's first shipment of iron ore, congratulating the richest Australian for developing a mine that will add new tonnes to an oversupplied iron ore market.
Mr Forrest has spent most of the year lambasting his larger rivals BHP Billiton and Rio Tinto for ramping up iron ore production as prices for the key steel making ingredient slide.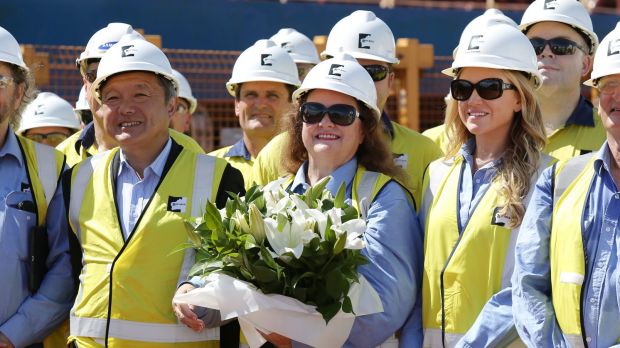 But when asked by Fairfax Media about the significant milestone achieved by Mrs Rinehart – the first shipment of iron ore from Roy Hill, a mine majority owned and operated by her family company – Mr Forrest had nothing but praise.
"Everyone at Fortescue welcomes every worker and stakeholder in the Roy Hill project to the Australian iron ore industry," Mr Forrest said.
"After decades in the making, we wish you all the best for the future and congratulate you, your contractors and sub contractors warmly, for your considerable achievements thus far."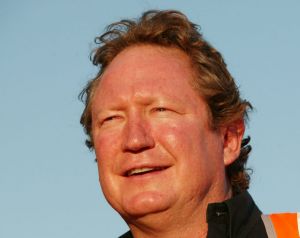 Mr Forrest has a unique perspective on the significant challenges faced financing, building and operating an iron ore mine in the Pilbara.
He successfully broke the cosy Pilbara iron ore duopoly between BHP Billiton and Rio Tinto nearly a decade ago.
Fortescue has previously said incremental production from Roy Hill would not significantly alter the iron ore price and it was a project planned many years ago, which means it has largely been factored in by the market.
Mrs Rinehart's Hancock Prospecting secured Roy Hill's exploration permits in the early 1990s and she has for nearly a quarter of a century dreamt of building and operating her family's first iron ore mine.
Her vast wealth has largely come from royalty cheques sent by Rio Tinto for Hancock Prospecting's half share in the Hope Downs iron ore joint venture, which Rio Tinto operates.
But slowing Chinese demand and vast amount of low cost iron ore production has pushed prices down by about 40 per cent this year.
It has forced miners including Fortescue to massively slash costs to preserve profit.
Before Roy Hill began construction it was already cutting costs, which included cutting the pay packets of its staff by between 5 per cent to 10 per cent earlier this year.
There was widespread congratulations for Mrs Rinehart's significant achievement, including well wishes from outgoing ANZ chief executive Mike Smith.
ANZ is one of 19 financiers that backed a $US7.2 billion debt financing deal, the largest for a land-based mining project.
"Roy Hill is not just a world class iron ore mine, it's the fulfilment of a dream that Gina has had to unlock the economic potential of the Pilbara," Mr Smith said.
"Like her father, Gina dreams big. Gina and her team have put in years of meticulous planning and hard work to this project. She's put together a fantastic set of partners.
"She's secured billions of dollars in funding from banks including ANZ. And if that wasn't enough, she's been able to get 50,000 people to work together to make Roy Hill a reality."
Federal resources minister Josh Frydenberg congratulated Roy Hill on their first shipment.
"The project provides further certainty for Australia's iron ore exports, with an expected 17 year initial life span and a possible further 12 year extension."
With iron ore prices sinking below $US40 per tonne enormous profit has been wiped from Mrs Rinehart's returns.
Based on analyst forecasts for her production costs, if the project had been operational 18 months ago, when iron ore was trading at $US100 per tonne, Hancock Prospecting was in line to collect about $2.5 billion in profit.
That figure is a now about $200 million.
Roy Hill will initially lose money on its production because it has to ramp up to its target run rate of 55 million tonnes per year, a process it expects to take 15 months.
Roy Hill managing director Barry Fitzgerald said on Thursday that based on current ore prices Roy Hill's tonnes were profitable, based on a 55 million tonne per year output.
In a statement, Mrs Rinehart's long serving executive Tad Watroba once again lashed criticism that Roy Hill's production may hurt iron ore prices.
"It is unreasonable that the media and industry analysts are continually overstating the impact the Roy Hill Project will have on the iron ore price and ignore that prices dropped last year, pre Roy Hill even shipping," Mr Watroba said.
"They also ignore the significant increases from now to the end of 2017 from other companies which will significantly exceed shipments from Roy Hill."
Merrill Lynch estimates that 70 million additional tonnes will hit the iron ore market in 2016, of which 25 million tonnes is from Roy Hill.
Mr Watroba said Roy Hill's first shipment was "testament to Mrs Rinehart's vision, effort, determination and hard-work."
"This mega-Australasian project could not have occurred without Mrs Rinehart's leadership from the initial pegging of the deposit more than 20 years ago to this historic day," he said.
Courtesy of The Sydney Morning Herald