27 July 2015
Nadia Daly and Sally Brooks
ABC News
What could be Australia's biggest prawn farm has been given major project status by the federal and Northern Territory governments, fast-tracking its development.
Project Sea Dragon is a $1.45-billion project proposed for Legune Station, on the border of the Northern Territory and Western Australia and sitting on the northern coastline.
WA company Seafarms Group is looking to develop a land-based prawn aquaculture project on the property which the Government says could employ 1,600 full-time staff.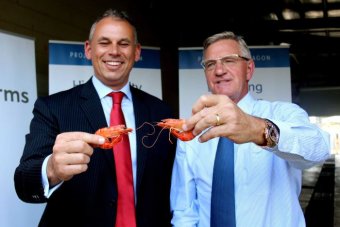 The project was first mooted in 2012, with the company signing a three-year access and option agreement with the owners in 2015.
Seafarms Group executive chairman Ian Trahar said one of Legune's drawcards was "Australia's largest private dam, which is 50 gigalitres".
"That is a major asset because it gives us 100 per cent water security for the first two phases," he said.
"We'll have to expand our water capacity into the future, but probably through to about 4,000 or 5,000 hectares that water is already on the station and sitting in a dam."
But it was also a change to the NT Pastoral Act which attracted the company, Mr Trahar said.
In 2013 the Government changed the laws surrounding the use of pastoral properties, allowing land owners to diversify from running cattle.
"We couldn't undertake this project in Western Australia or in Queensland. None of the legislative instruments that are necessary for it to occur are in place," Mr Trahar said.
"It's been in my view visionary to establish the non-pastoral use component, and that's very much why this project is here."
Mr Trahar said he hoped to project would be ready for investment by September or October next year and there was already strong investor interest in the project.
He said the company was waiting for the finalisation of its environmental impact statement, and the company had already started talking to local Indigenous groups about the project.
The company plans to use the port at Wyndham in WA to export the prawns, with the first shipment of prawns to Asia expected to set sail in 2018.
Governments welcome aquaculture development
Deputy Prime Minister and Minister for Infrastructure and Regional Development Warren Truss said Project Sea Dragon was the type of project his government wanted in northern Australia.
"It's visionary and comes at the right time to meet surging global demand and takes advantage of northern Australia's inherent benefits of space, location and opportunity," he said.
Mr Truss said major project status would mean Seafarms Group would now have access to services to coordinate government processes like environmental and biosecurity approvals.
Northern Territory Chief Minister Adam Giles said by 2050 there would be a 70 per cent increase in demand for prawns globally.
"There will be a shortfall," he said.
He said Australia currently produced about 5,000 tonnes of prawns per year, and that Project Sea Dragon would dramatically increase production.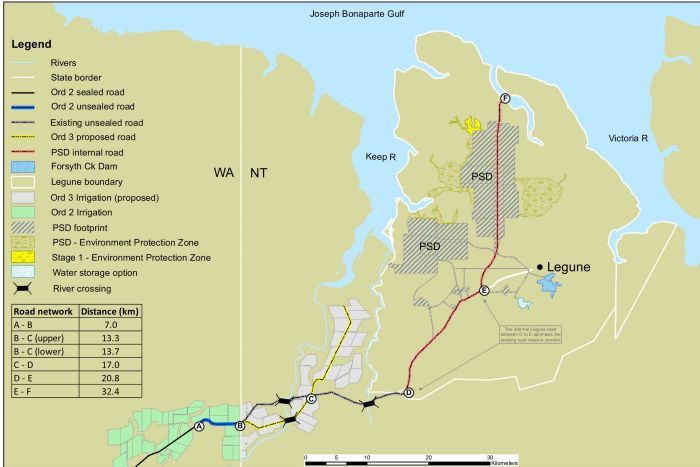 Land tenure 'biggest hurdle'
The three-year access and option agreement allows Seafarms to start applications for land tenure, approvals and licenses for the 178,800-hectare property.
Project Sea Dragon could:
Develop up to 10,000 hectares of Legune Station
Produce 100,000 tonnes of black tiger prawns per year
Cost $1.45 billion to build
Employ 1,600 full time staff
Include spawning facilities at Exmouth
The project could use up to 10,000 hectares of the property.
When the initial announcement for the project was made in February the group was pursuing land tenure approvals for the operation on Legune Station, which it said would be its biggest hurdle to success.
The company said it has "high level support from both state and federal governments for the project which is vital to securing land access and production licenses".
Northern Territory Chief Minister Adam Giles has previously said the project would "be crucial to breaking the destructive cycle of welfare dependency" and bring jobs to Indigenous communities.
The project is designed to produce high-quality, year-round reliable volumes for export markets, and aims to produce 100,000 tonnes of black tiger prawns per year.
Seafarms Group has said the project is designed to meet the growing demand of a fast-growing middle class in Asia, with a hunger for seafood.