5 September 2015
Barry FitzGerald
The Australian
Annual expenditure on finding the next generation of mines has plunged from $4 billion to $1.5bn in the past three years, setting off alarm bells that many operations in mining-dependent regional communities around the country might simply not exist within 15 years.
The revenue, employment and regional community viability issues that would come from a prolonged exploration downturn should be a concern for governments.
Minerals economist Richard Schodde has been analysing the industry for decades and told The Weekend Australian that, based on published reserves and resources, half Australia's mines would be mined out within 15 years.
"Given the mining industry is front and centre to the economic prosperity of the country, there is a clear need for governments to understand the exploration challenge,'' Mr Schodde said.
Simon Bennison, chief executive of the Association of Mining and Exploration Companies, warned that the long-term growth of the industry was at stake.
"The decrease in greenfield mineral exploration has serious consequences for future governments given greenfields exploration is responsible for finding the mines of tomorrow,'' he said.
"Considering it takes between seven and 10 years from exploration to production, it is im­perative we increase greenfield mineral exploration to ensure the long-term growth of the ­industry.''
Exploration expenditure is highly cyclical, rising and falling in sympathy with commodity ­prices. And with prices plunging since the 2012 financial year, there is no real surprise that exploration expenditure has also tumbled. In US dollar terms (which drives company and investor sentiment), the zinc price has done best by falling only 6.5 per cent from its 2012 June-half average. Elsewhere, it has been carnage. Iron ore is weighing on the nation's balance of payments with prices down 60 per cent in US dollar terms. Aluminium has fallen 15 per cent, gold 26 per cent, copper 30 per cent, thermal coal 31 per cent, nickel 38 per cent and ­coking coal 47 per cent.
As companies juggle expenditure commitments within a drastically narrowed cashflow band, exploration expenditure quickly becomes a discretionary item, particularly for those with balance sheet challenges. On Bureau of Statistics and Minerals Council of Australia figures, exploration has more than halved in the past three years. Total spending of $3.9bn in the 2012 financial year 2012 fell to $1.5bn in 2014-15.
The expenditure crunch had widespread impacts, not the least of which will be a dearth of new discoveries in the years ahead. Unemployment and under-­employment among the nation's geoscientists has soared to 35 per cent, and most of the nation's drilling contractors are fighting for survival.
The biggest exploration expenditure falls have been recorded in exploration for the bulk commodities of iron ore and coal, due mainly to the investment boom in new capacity during the decade-long bull run in ­commodity prices up until mid 2012 creating oversupply. Iron ore exploration expenditure has more than halved since to $447 million, while coal expenditure has plunged from $834m to as ­little as $251m. Should commodity prices recover soon, the damage will start to be undone. But economic uncertainty in China — now the world's biggest consumer of all mineral commod­ities — means no one is forecasting a rebound soon.
"In the medium term, we expect that mining companies and junior explorers will have to increase their exploration spending to replace and add to reserves,'' said Richard O'Brien, the soon-to-retire chief executive of the world's biggest drilling company, Boart Longyear.
"Several major mining companies have not replaced reserves over the last few years, so we remain confident that a sustained, multi-year recovery in demand for our drilling services and products will occur," he told Boart Longyear's recent investor profit briefing. "We only wish we were as confident in our ability to say exactly when that recovery will occur.'' A $4.90 stock at the height of the commodity price boom, Boart Longyear now trades at 7c a share.
Despite the gloom around the nation's exploration effort, there are signs the importance of exploring today for the mines of tomorrow is not lost on miners.
In the latest commodity price downturn, Rio Tinto has been differentiating itself from its arch competitor for the investor's dollar, BHP Billiton, by maintaining a broad exploration effort. Its global mine, near-mine, and greenfields exploration effort has been cut from $US1.3bn ($1.86bn) in (calendar) 2011 to $US765m in 2014.
But BHP has retreated to copper exploration in the Andes and not much else, taking its global spend down from $US687m in the 2011 financial year to $US267m in 2014-15.
The way Rio's head of exploration, Stephen McIntosh, sees it, there is an absolute need to continue exploring through the commodity and economic ­cycles.
"The global economic climate largely drives the mining cycle, with its supply and demand fluctuations and its commodity price rises and falls, but the overall need for new non-­renewable mineral resources from the world's industries does not go away, so exploration must continue,'' Mr McIntosh told The Weekend Australian.
"Exploration is vital at all points of the mining cycle and it needs to continue if companies are to have high-quality investment opportunities ready to be progressed when the cycle turns once more. Otherwise companies face the risk of falling behind with few or no new options to ­either sustain existing operations, let alone grow them.
"The challenge for exploration in Australia is that the least-explored areas lie beneath extensive post-mineral cover. To meet this challenge, Rio is ­focused on developing new technologies to improve exploration efficiency in covered areas.''
Australia's biggest gold producer and one of the most successful explorers, Newcrest, has also talked about its plan to restock its pipeline of exploration projects with an eye to the long-term future. Newcrest chief development officer Michael Nossal said the goldminer's exploration team was looking to bring more potential targets and early entry opportunities to the company, with planned expenditure this year of up to $70m on the overall exploration effort.
While commodity prices have an overriding influence on exploration expenditure, other factors are at play. According to Mr Schodde, they include government policies and more technical factors like the industry buzz that can come from a new discovery, or success with new geological search techniques.
A range of red tape, green tape and the native title approvals process has, according to Rio, made Australia a complex place to conduct exploration.
Minerals Council of Australia chief executive Brendan Pearson adds another concern — the success non-government organisations are having with what he describes as a 'smear' campaign against anything to do with mining. "The industry is being smeared and interfered with at every juncture,'' he said.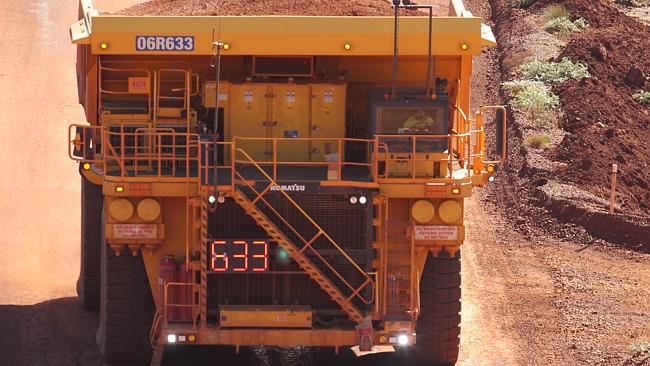 Courtesy of the Australian