26 August 2015
Angela Macdonald-Smith
The Sydney Morning Herald
US oil major ConocoPhillips is targeting mid-2018 for a go-ahead on a potential $US15 billion ($21 billion) offshore gas development off northern Australia to feed its Darwin liquefied natural gas project once current supplies have run out, but says an expansion of the venture isn't viable without a sharp drop in costs.
Frank Krieger, vice-president of exploration and development for Conoco in Australia, said that either the Caldita-Barossa gas fields in the Timor Sea or the Poseidon fields in the Browse Basin could be developed, but only as "backfill" for Darwin LNG, not an expansion.
That gas would be used to keep the LNG project in operation after the existing offshore gas source, the Bayu-Undan field in the Timor Sea, is depleted in 2022 or 2023.
Darwin LNG, which produces about 3.7 million tonnes a year of LNG, has long been regarded as prime for expansion given it already has development approval to take capacity at the site to 10 million tonnes. But Mr Krieger signalled an expansion is highly unlikely after the significant inflation in costs since the original plant was built, particularly given weak oil prices.
Darwin LNG cost about $US3 billion, compared with $US15 billion for Woodside Petroleum's similar-sized Pluto venture several years later, while projects currently under construction are much more expensive.
"Darwin LNG was built in a low-price environment and it's clearly the most economic way for us to monetise our gas resources," Mr Krieger said in an exclusive interview ahead of a conference address in Darwin on Wednesday.
"In terms of our global portfolio the price to build a brownfield LNG train in Darwin just really isn't competitive at the moment, so we'll need to see significant cost deflation to drive us to want to do that or to have it compete in our portfolio."
Significant development
The development of Caldita-Barossa or of Poseidon would still be significant, requiring between $US7 billion and $US15 billion for the offshore facilities and a pipeline to take gas to a point on the existing Bayu-Undan pipeline where it can be shipped to Darwin, Mr Krieger suggested.
The project would involve offshore development of the fields using a production ship or offshore rig, and a 250-kilometre pipeline in the case of Caldita-Barossa, or a 640-kilometre pipeline for Poseidon.
Work on both options is running in parallel, with a decision on the preferred development expected in mid-2017 when front-end engineering and design (FEED) work would start.
"We're in appraisal at the moment so we're going to assess which one of those is the best candidate and we'll bring that forward with the LNG partners and the joint ventures which we represent," Mr Krieger said. "We see them as fairly equal at the moment."
Conoco is partnered by Chinese oil giant PetroChina and Origin Energy in Poseidon, while its partners in Caldita-Barossa are South Korea's SK E&S and Santos. Poseidon holds more gas and is more liquids rich than Caldita-Barossa, but is farther away and lies in deeper water.
Mr Krieger said that the presence of PetroChina and SK presented options for selling LNG from the Darwin project, while the venture's existing customers, Tokyo Gas and Tokyo Electric, could also want to extend supplies.
The Bayu-Undan Production Sharing Contact expires in in 2022.
Mr Krieger said that while Conoco is starting to see some cost deflation in Australia, "more work is needed to remain globally competitive." But he says the economics of leveraging existing assets such as the Darwin plant "cannot be ignored".
Both Santos and Origin have had their balance sheets stretched y their respective Queensland LNG projects, but Mr Krieger said that despite the weak oil price environment, there was no pressure from partners to slow down work on either Poseidon or Caldita-Barossa.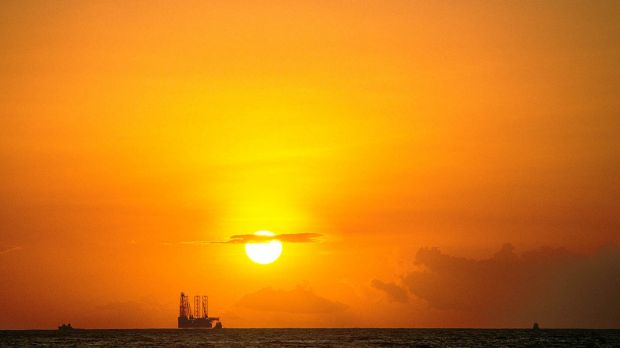 Courtesy of the Sydney Morning Herald