29 May 2015
Craig Zonca and Charlie McKillop
ABC Rural
A record number of cattle being exported this year from the port of Townsville is only the beginning of a resurgence.
AUDIO: With an unprecedented focus on northern Australia, a panel discusses the potential for Townsville (ABC Rural)
Many hope the unofficial "capital of North Queensland" will cash in on a renewed focus on the development of northern Australia.
The Federal Government this month put up a $5 billion concessional loans package to encourage private sector investment, along with a further $100 million to develop beef roads.
After "60 years of talk" it is being touted as an "unprecedented" catalyst for northern Australia finally realising its economic potential.
If infrastructure is the key to unlocking that potential, there are many who believe Townsville's port is in the box seat.
Chief executive officer, Renee Crosby, said Townsville's strategic advantage of being the most diverse, multi-cargo port in northern Australia gives the port a flexibility of infrastructure to cater for a range of commodities.
Ms Crosby pointed to triple road train access direct to berths, growth in containerised traffic and direct shipping services to key destinations such as the one announced recently to Shanghai, which was critical to moving "time sensitive produce" through the port.
"Infrastructure is vital," he said.
"So, we've had half a billion dollars of investment into the port and transport connections in the past three years and I think what we'll need to see in the next coming decade or so is certainly another few hundred million dollars of investment that we are planning for."
Power prices hinder northern expansion
Tracy Lines from the economic development peak body, Townsville Enterprise, agreed infrastructure was important to knocking over impediments to the overall supply chain.
She believed the northern Australia 'infrastructure audit' also announced by the federal government would show the high cost of energy is the single-biggest impediment to development.
"We pay the highest price in the country, after the Pilbara, for power," she said.
"It's a really difficult sector, energy, there's so many things that go into it and base load power tends to be the one people talk about but it's not that simple. If it was that simple, it probably would have been fixed.
"There's federal regulation, state regulation, there's transmission generation, coal, diesel – all of those things have to be considered as a whole which is why Townsville and north Queensland has the energy crisis that it haves."
New markets as Asia fills 'vacuum'
It is one thing to be able to produce and transport agricultural and mining commodities but guaranteeing markets is also part of the challenge, according to Charters Towers Mayor, Frank Beveridge.
Cr Beveridge was speaking from the Australia-China Economic Trade Cooperation Conference in Sydney, where the message north Queensland was 'open for business' was being reinforced following a recent delegation to China.
He said forging markets must be regarded as at least as important as the infrastructure required to get it there.
"It's a little bit of both," Cr Beveridge said.
"I think more than anything there's a vacuum in Asia and that's what's drawing us in and we're more than happy to be at the forefront there and clearly, we are competing with central Queensland, Brisbane and Darwin."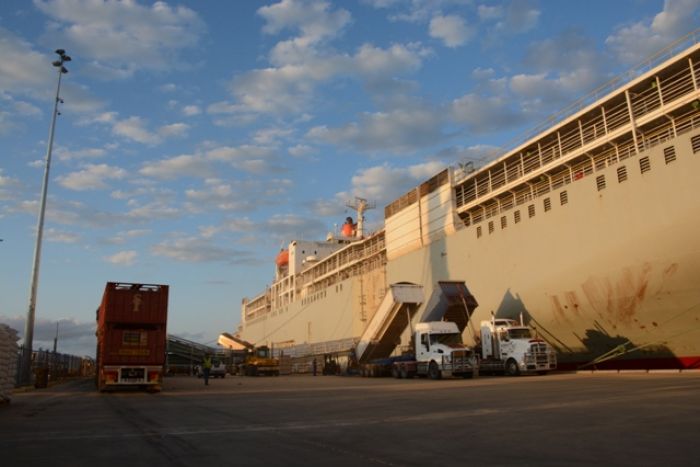 Northern abattoir bidding war
Almost every town along the Flinders Highway, west of Townsville, has joined the pitch to build a new, $75-95 million meat processing facility in north Queensland.
Cr Beveridge said the 'further away from the ocean', the more difficult the economic case becomes which, by those standards, makes his Charters Towers shire a frontrunner.
The council last week allocated $50,000 toward developing a business case – the 'missing link in the chain' – to wooing a 'congo line of people' wanting to put money into the project.
He agreed it may be counterproductive pitting one council against another in pitching several investment proposals but ultimately, a commercial decision would be made.
"There's a very good reason why there hasn't been an abattoir built in the past 20 years… it's a very complex task and you don't want to set it up to fail."
"You need a massive volume of water, a lot of electricity and of course, you have to be close to infrastructure… so, a place in Charters Towers, we think, ticks all of the boxes and of course, we have an AQIS registered cattle yard."
Tracy Lines admitted there was still work to be done to getting projects to be 'shovel ready' but it was important to work with a consistent, regional focus.
"Some of them are closer to viable investment decisions than others and one of the roles of Townsville Enterprise is working towards getting those business cases ready."
"Whether we're talking in Canberra or Brisbane or internationally, the strength is when our shires, our mayors, economic development bodies and our infrastructure providers like our ports and airports and rail lines are working together with a consistent message saying 'this a region that can deliver, this is a region that wants your investment'."