8 May 2015
Steven Scott
Courier Mail
STATES, councils and the private sector will be asked to chip in extra funds to help the Commonwealth's $100 million fund for "beef" roads in Northern Australia meet the infrastructure need.
Prime Minister Tony Abbott travelled to Beef Week in Rockhampton this morning to announce the fund, revealed by The Courier-Mail today.
It's part of a $1.7 billion funding package to be announced in the Budget.
He said just how many road upgrades would be delivered depended on what states, councils and the private sector wanted.
"This is a fund that will be spent in conjunction with state and local governments, in conjunction with the private sector," he said.
"Co-investment is the key to making this money go as far as it possibly can.
"Let's see what proposals come forward. There's a $100 million fund now that's available. Let's see whether the state and territory governments want to come in to help."
Mr Abbott said the CSIRO had developed new techniques, new modelling to help identify which the investments would make the biggest difference.
Mr Abbott will also announce a new drought assistance package this weekend as he continues to drip-feed announcements related to his yet to be released Northern Australia white paper.
He said that white paper and one on Agriculture would be available in "coming months".
"You'll see both of those papers soon but what you'll also see, starting today, are down payments on some of the measures in both of those white papers," he said.
"We are committed to a wholistic approach to northern development. We want to see better infrastructure. We want to see less regulation."
Deputy Premier Jackie Trad welcomed the beef roads funding announcement but called for more funding to be made available for other Queensland infrastructure in next week's Federal Budget.
"We know that the beef industry is one of Queensland's biggest exporters and we are very thankful for that announcement," she said.
"But what we also need is a similar commitment to infrastructure that will help to grow our regional centres and the southeast corner.
"We not only need funding for roads but we need funding for public transport infrastructure."
EARLIER
QUEENSLAND will be one of biggest winners out of a $1.7 billion funding package aimed at boost for agriculture and northern Australia to be contained in the Budget.
In the first of a series of announcements from the fund, Prime Minister Tony Abbott has today revealed plans to pump $100 million into roads used to transport cattle across the north.
The government's Budget razor gang has signed off on a $1.7 billion pool of money, which will be used to fund parts of its long-awaited White Papers on Agriculture and Northern Australia.
New funding for a network of dams and other infrastructure will be a key part of the commitments.
Several parts of the two key policy pledges are likely to be combined and will be rolled out in the Budget but the government is set to further delay the release of the complete white papers, which Mr Abbott originally promised to deliver within a year of winning office.
In a sign of the focus to be put on regional areas in the Budget, the government is also preparing to commit to a "stimulus package" for drought affected towns in Queensland and NSW.
Mr Abbott has today visited Rockhampton, which is celebrating "Beef Week", where he committed to upgrading roads to help the industry.
He was then set to address a Liberal National Party's "Latitudes North" policy forum in Cairns, where he will be grilled by party members about the twin policies.
The $100 million "Northern Australia Beef Roads Fund" will be a central part of the government's new infrastructure and agriculture funding in the Budget.
"The Northern Australia Beef Roads Fund will improve the productivity and resilience of cattle supply chains in northern Australia," Mr Abbott said.
"This will underpin the future viability of the cattle industry which has long been a pillar of the northern economy. The Government is committed to realising the potential of northern Australia."
Funding will be allocated based on modelling by the CSIRO that can assess the impact of spending money at each part of the supply chain.
The modelling will weigh up the cost and benefit of different upgrades such as sealing roads or paying for improvements to ports and processing facilities across the country.
Long distances and delays caused by floods and seasonal road closures drive up the price of beef, accounting for 35 per cent of the market price of livestock.
Land transport involved in moving cattle from the farm gate involves some of the longest distances of any Australian commodity.
New roads will benefit all regional road users and will also be promoted by the government as part of their attempts to help revive the live export industry that was harmed by the trade halt under Labor.
The federal government will push the Queensland, Northern Territory and West Australian governments to contribute to the roads fund.
It will also champion other measures to cut red tape for agricultural industries in the north with the state and territory governments.
Mr Abbott's office declined to comment on other parts of the funding for agriculture and northern Australia and is keeping tight control over the policies.
But The Courier-Mail has confirmed all have been signed off by key ministers and will be included in the Budget.
The government has been under pressure to commit to measures ranging from plans for new dams to incentives for farmers and businesses to move north of the Tropic of Capricorn.
One of the more controversial measures includes allowing foreign airlines to fly direct to airports in Cairns, Townsville, Darwin and Karratha and then on to domestic airports.
The "open skies" policy would spark an airline price war over domestic tickets to and from northern Australia but it is bitterly opposed by Qantas and some members of the Cabinet.
Some of the policy proposals were delayed after Labor came to power in Queensland because the federal government wants to make sure the State is on board with the plans.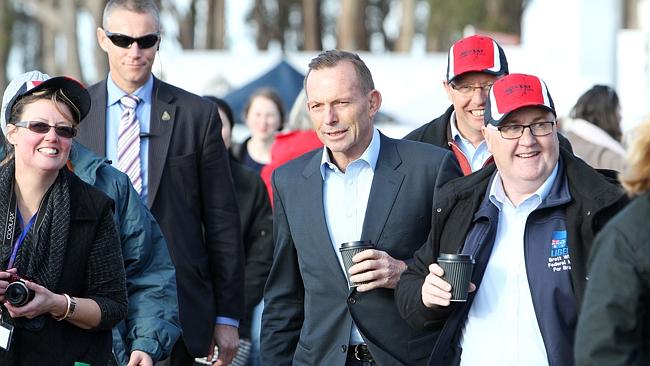 Courtesy of the Courier Mail