Article by Patrick Commins and Paige Taylor courtesy of The Australian.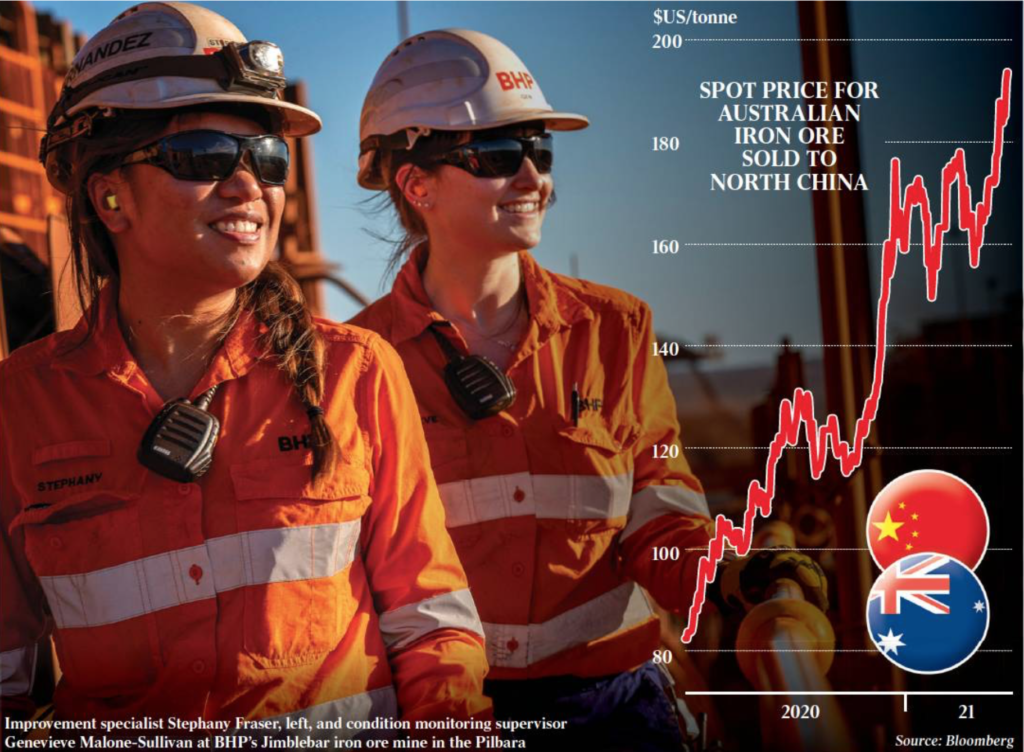 COMMODITY PRICE SMASHES PREVIOUS RECORD
The price of iron ore has hit a new record high of $US193.85 a tonne and is tipped to break through the $US200 barrier in a boom that will improve the federal budget bottom line by an estimated $20bn.
The record price has been accompanied by a jump in the volume of exports, drawing thousands of workers back to the sparsely populated Pilbara in the north of Western Australia.
Miner Rio Tinto has employed an additional 2700 people for its WA operations over the past 11 months as it builds four new mines in the Pilbara, including the $2.6bn Gudai Darri project that will begin exporting this year.
The towns of the Pilbara have been transformed again by the latest surge in activity.
Sections of Karratha, 1500km north of Perth, resemble a fashionable city suburb thanks to a proliferation of new shops and bars. The rental vacancy rate is a tiny 0.4 per cent.
In Port Hedland, the most northern town in the region, the median house price has climbed 31 per cent in a year.
Iron ore could soon cross the never-seen-before price threshold of $US200 ($257.70) per tonne as steel margins expand amid a stimulus-led global construction boom and China increases steel production, according to analysts at Macquarie.
Investment bank UBS has estimated the soaring price should add at least $20bn in tax revenues to the federal budget should the iron ore market remain buoyant.
A record $14bn of iron ore was exported in March, up $2.5bn on the February figure.
The Pilbara moved into top gear as China's ruling Communist Party pumped $1.5 trillion into steel-hungry infrastructure projects to bolster growth through the COVID-19 crisis.
The benchmark spot price of Australia's biggest export commodity has climbed more than 130 per cent over the past year, surpassing the $US193 high set in February 2011.
But with the Australian dollar around 20 per cent weaker than it was a decade ago, the spot price in local currency terms has already forged new highs of around $240 per tonne.
The sky-high prices have triggered a number of smaller mines to start or recommence production, such as Mineral Resources' Wonmunna iron ore project and Strike Resources' Paulsens East mine, both in WA.
Chinese steel mills are enjoying their highest margins since 2018, allowing them to increase profits despite soaring input costs.
Commonwealth Bank global markets research commodities analyst Vivek Dhar said although iron ore prices should remain strong, demand in China may ease later in the year.
"What's kept iron ore prices this elevated is that steel prices have kept pace," Mr Dhar said.
That is even more remarkable given China's unofficial ban on Australian coal has left mills paying $US225 a tonne for coking coal, more than twice the $US110 Australian export price.
Global iron ore supply remains constrained after a tragic dam failure at a Vale mine in Brazil in early 2019, which contributed to the record high prices.
With supply largely static, Chinese demand will determine the future for iron ore prices for the remainder of the year. Chinese issuance of local government bonds — which are used to fund infrastructure projects — are a proxy for steel and iron ore demand.
Mr Dhar said authorities had issued, or had committed to issue, $1.5 trillion in 2020 and 2021.
Mr Dhar expects iron ore will ease to $US110 a tonne by the end of this year, but with the balance of probabilities suggesting it could be higher rather than lower than that. "The expectation was that the iron ore price would fade through 2021, but it has stayed stronger for a lot longer than expected, and the risk is that it stays stronger," Mr Dhar said.
Karratha mayor Peter Long believes residents of the town see the latest iron ore export boom as a long-term prospect in a way they did not during the last boom a decade ago.
"In 2011, we asked 1500 people whether they planned to stay in Karratha. Only 14 per cent said they had no plans to leave," he said. "This year, our survey showed that 40 per cent have no plans to leave. We've turned the town around with good facilities, ovals and footpaths and swimming pools.
"Average rentals are the killer. The average rental is about $750 right now. That's twice the rent of any other regional town. It's hard if you're a bar tender or a tradesman on $80,000 a year. We have people leaving town who want to stay here but can't afford it."
'What's kept iron ore prices this elevated is that steel prices have kept pace'
VIVEK DHAR
CBA ANALYST