Article by Zoe Smith courtesy of the Courier Mail
Gina Rinehart has called on the Morrison government to look towards the US to help Australia recover from the economic fall out of the coronavirus pandemic.
The billionaire mining magnate said the Australian government must mirror the Trump administration in rolling out a "practical" solution – to cut government taxes and tape.
"In my view, blind Freddy should be able to see what needs to be done to help Australia economically recover from the COVID pandemic; it's not rocket science. It's been practised time and time again successfully. Cut government taxes [and] cut government tape," Ms Rinehart said during an appearance on Channel 7's live TV special, Spotlight: Surviving the Crash.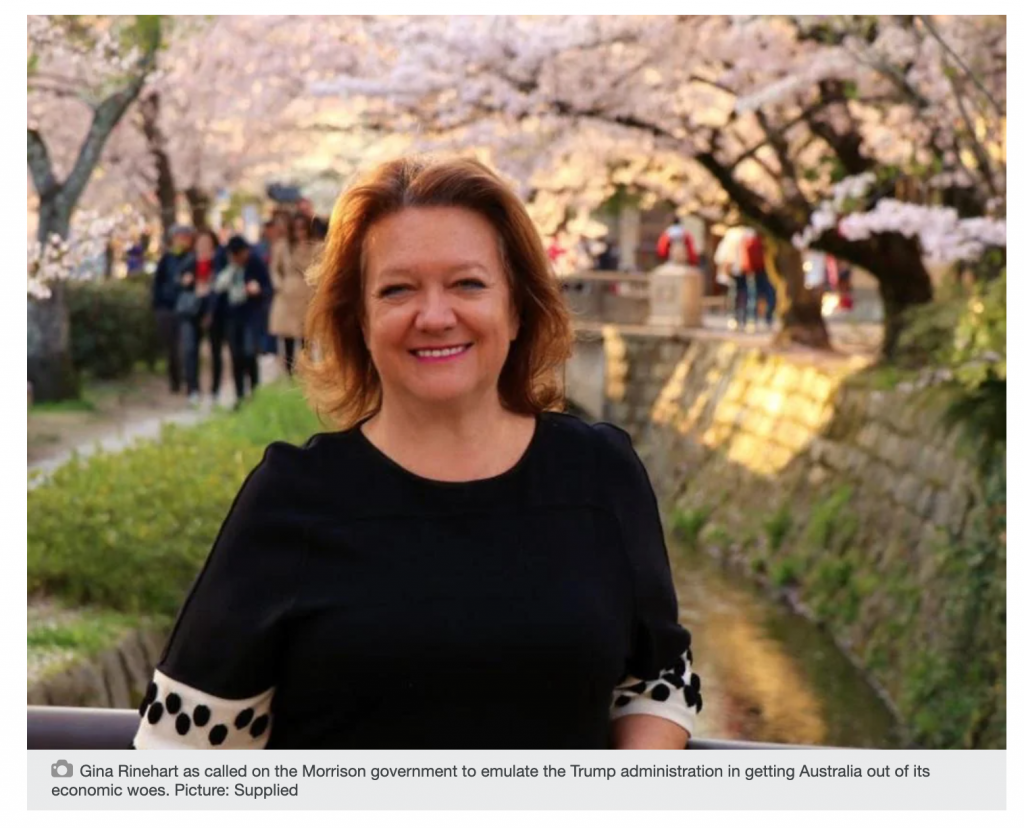 "Don't just look at Australia, look at what happened successfully in the United States. And how did that happen? President Trump bit the bullet and cut both taxes and tape," Ms Rinehart said.
"This is what Australia needs to do, not talk about it. This is what Canberra needs to do."
Rinehart said state capitals needed to also look at cutting payroll taxes in a move to enable the creation of more jobs.
"Why on earth have a tax on employment? It just doesn't make sense. If you want to have more employment, taxing people for providing employment is obviously not the most sensible thing to do.
"I think there's too much emphasis here on spending without realising you've got a welcome investment first. So you've got some revenue so you can spend it. Welcoming investment is critical to our standard of living. It's critical to any growth in our standard of living.
It's the one that enables jobs."
Ms Rinehart also said that the mining industry would "help to lead us out of this COVID economic woe" although she also stated that the industry's costs are "very high" in Australia.
"You really can't kill the goose that laid the golden eggs. So just be realistic," she said.
"Take the hard decisions, provide some leadership, provide some vision and cut tax, cut tape. Please."