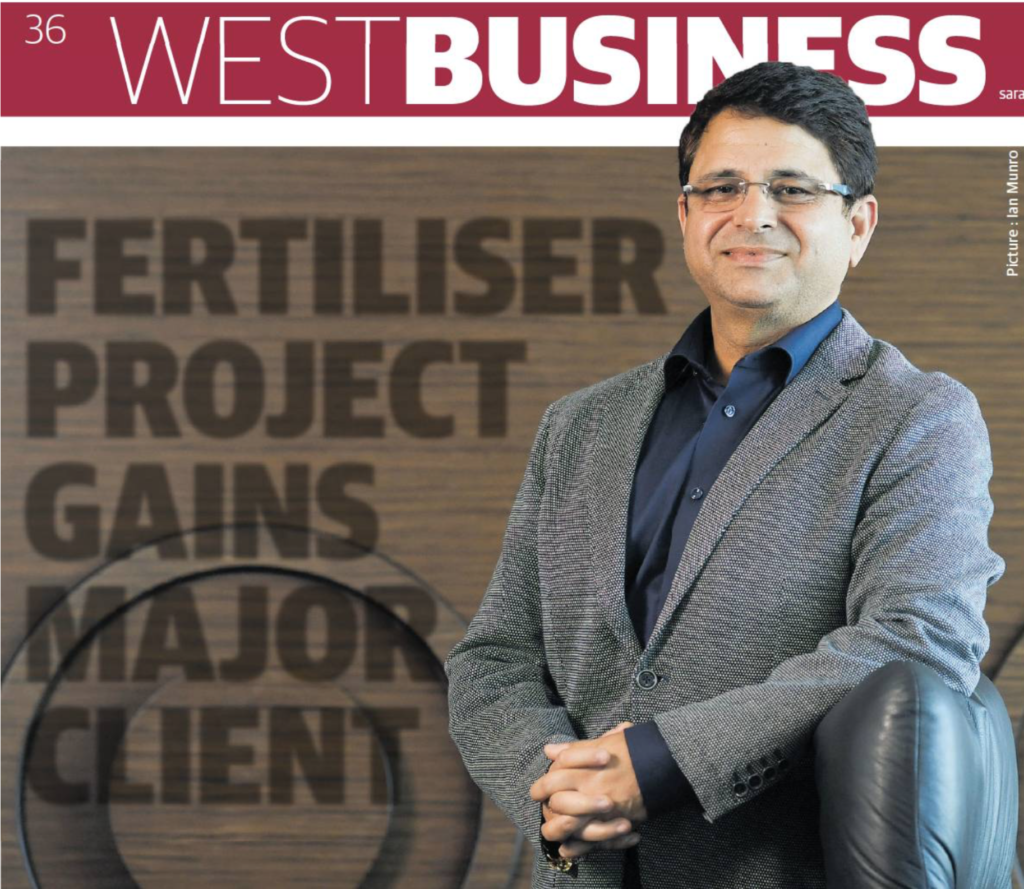 Article by Daniel Newell courtesy of the West Australian.

20-year Incitec deal a coup for Perth company.
Perdaman Chemicals and Fertilisers has secured a milestone offtake deal for its $4.2 billion Karratha urea project, clearing a major hurdle before it finalises funding for the development.
The privately owned, Perthbased company announced yesterday it had entered an agreement with Incitec Pivot's fertiliser division for up to 2.3 million tonnes per annum of granular urea fertiliser — the full annual production rate for the plant — for the next 20 years.
Perdaman chairman Vikas Rambal, pictured, said the deal marked an historic day for the company.
"It is a cornerstone offtake. Any project needs to sell volumes so we are very pleased we were able to do this deal during these tough times," he said, adding COVID-19 meant negotiations were done from a distance. "But I'm very pleased people are still doing deals that will get the jobs going for the next four or five years."
Mr Rambal said Karratha had the potential to make Australia a major player in the global urea market.
Perdaman plans to start construction of the plant early next year and has appointed local engineering firm Clough as the lead contractor, targeting first production of urea in 2025.
The plant will transform natural gas — sourced from North West energy giant Woodside — into urea, making it the first world-scale facility of its kind in Australia.
Mr Rambal said Perdaman was now shortlisting project financing options for construction of the plant and hoped to have money in place by the end of the year before breaking ground on site in January or February next year.
Incitec CEO Jeanne Johns said Perdaman's project would be one of the most energy-efficient plants in the world using low-emissions technology.
"We are pleased to support such a significant domestic manufacturing project that will use Australian gas to produce urea fertiliser, essential for our Australian and international agricultural markets," she said.
Through the agreement, Incitec Fertilisers will supply local customers and expand sales into growing global markets.
The deal remains subject to several conditions, including Perdaman securing gas supply contracts and the funds to build the plant.
The plant is expected to generate between 1500 and 2000 jobs during the three years of construction.
About 200 permanent workers will be needed in Karratha when the plant reaches steadystate production.
The project is just one of several urea plant and storage developments now in the pipeline for WA.
Aspiring gas producer Strike Energy has announced an ambitious $2.3 billion proposal to build a plant in Geraldton to help commercialise its gas resources in the Perth Basin.
Meanwhile, a group of international companies have thrown its weight behind plans to beat Perdaman into production through a $4 billion development at Derby.
The Derby Fertilisers and Petrochemical Complex, led by an expatriate who helped maintain Pankaj Oswal's Burrup Fertilisers plant in Karratha, is running a parallel planning and approvals process with the aim of turning out its first ammonia and methane for export markets by the final quarter of 2024.