Article by Peter Law courtesy of the West Australian.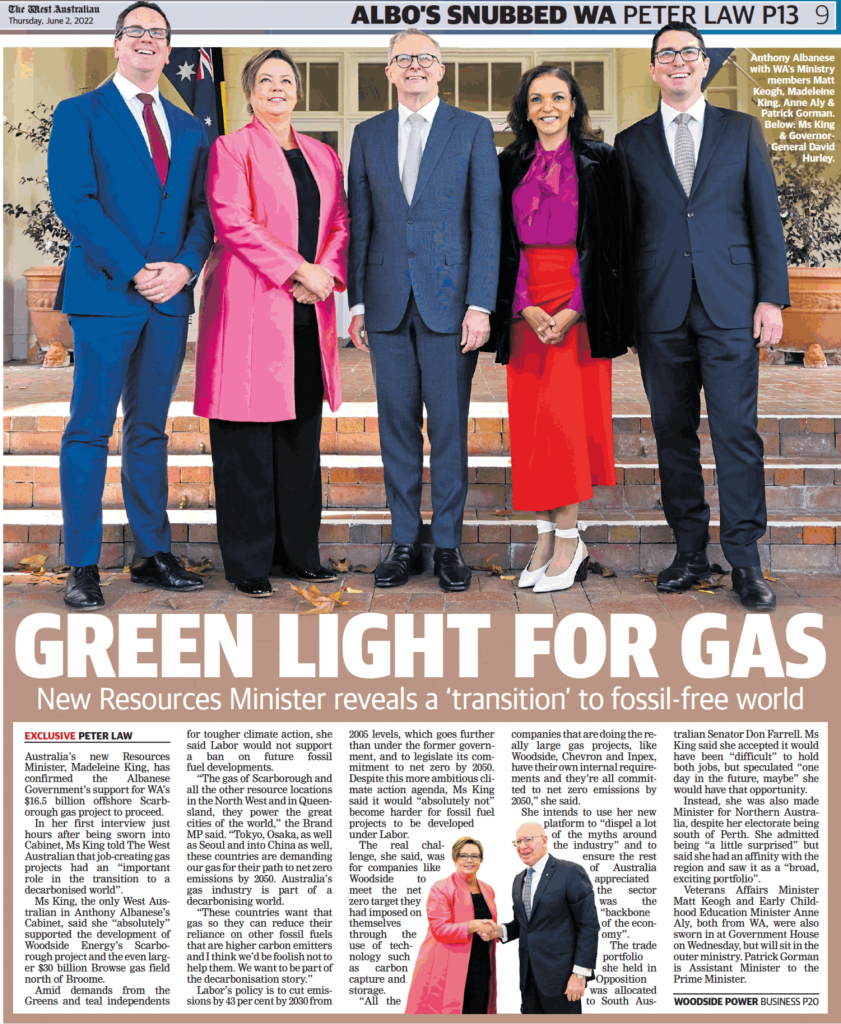 New Resources Minister reveals a 'transition' to fossil-free world.
Australia's new Resources Minister, Madeleine King, has confirmed the Albanese Government's support for WA's $16.5 billion offshore Scarborough gas project to proceed.
In her first interview just hours after being sworn into Cabinet, Ms King told The West Australian that job-creating gas projects had an "important role in the transition to a decarbonised world".
Ms King, the only West Australian in Anthony Albanese's Cabinet, said she "absolutely" supported the development of Woodside Energy's Scarborough project and the even larger $30 billion Browse gas field north of Broome.
Amid demands from the Greens and teal independents for tougher climate action, she said Labor would not support a ban on future fossil fuel developments.
"The gas of Scarborough and all the other resource locations in the North West and in Queensland, they power the great cities of the world," the Brand MP said. "Tokyo, Osaka, as well as Seoul and into China as well, these countries are demanding our gas for their path to net zero emissions by 2050. Australia's gas industry is part of a decarbonising world.
"These countries want that gas so they can reduce their reliance on other fossil fuels that are higher carbon emitters and I think we'd be foolish not to help them. We want to be part of the decarbonisation story."
Labor's policy is to cut emissions by 43 per cent by 2030 from 2005 levels, which goes further than under the former government, and to legislate its commitment to net zero by 2050. Despite this more ambitious climate action agenda, Ms King said it would "absolutely not" become harder for fossil fuel projects to be developed under Labor.
The real challenge, she said, was for companies like Woodside to meet the net zero target they had imposed on themselves through the use of technology such as carbon capture and storage.
"All the companies that are doing the really large gas projects, like Woodside, Chevron and Inpex, have their own internal requirements and they're all committed to net zero emissions by 2050," she said.
She intends to use her new platform to "dispel a lot of the myths around the industry" and to ensure the rest of Australia appreciated the sector was the "backbone of the economy".
The trade portfolio she held in Opposition was allocated to South Australian Senator Don Farrell. Ms King said she accepted it would have been "difficult" to hold both jobs, but speculated "one day in the future, maybe" she would have that opportunity.
Instead, she was also made Minister for Northern Australia, despite her electorate being south of Perth. She admitted being "a little surprised" but said she had an affinity with the region and saw it as a "broad, exciting portfolio".
Veterans Affairs Minister Matt Keogh and Early Childhood Education Minister Anne Aly, both from WA, were also sworn in at Government House on Wednesday, but will sit in the outer ministry. Patrick Gorman is Assistant Minister to the Prime Minister.