Article by Malcolm Quekett courtesy of the West Australian.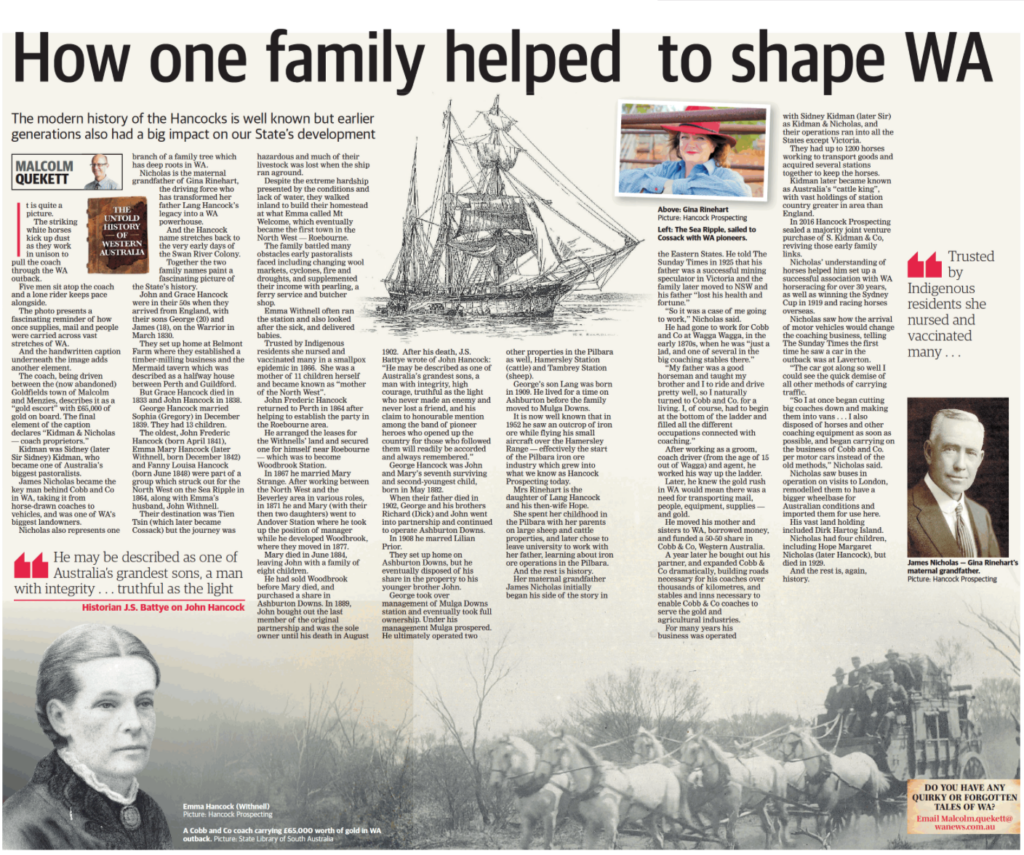 The modern history of the Hancocks is well known but earlier generations also had a big impact on our State's development
It is quite a picture.
The striking white horses kick up dust as they work in unison to pull the coach through the WA outback.
Five men sit atop the coach and a lone rider keeps pace alongside.
The photo presents a fascinating reminder of how once supplies, mail and people were carried across vast stretches of WA.
And the handwritten caption underneath the image adds another element.
The coach, being driven between the (now abandoned) Goldfields town of Malcolm and Menzies, describes it as a "gold escort" with £65,000 of gold on board. The final element of the caption declares "Kidman & Nicholas — coach proprietors."
Kidman was Sidney (later Sir Sidney) Kidman, who became one of Australia's biggest pastoralists.
James Nicholas became the key man behind Cobb and Co in WA, taking it from horse-drawn coaches to vehicles, and was one of WA's biggest landowners.
Nicholas also represents one branch of a family tree which has deep roots in WA.
Nicholas is the maternal grandfather of Gina Rinehart, the driving force who has transformed her father Lang Hancock's legacy into a WA powerhouse.
And the Hancock name stretches back to the very early days of the Swan River Colony.
Together the two family names paint a fascinating picture of the State's history.
John and Grace Hancock were in their 50s when they arrived from England, with their sons George (20) and James (18), on the Warrior in March 1830.
They set up home at Belmont Farm where they established a timber-milling business and the Mermaid tavern which was described as a halfway house between Perth and Guildford.
But Grace Hancock died in 1833 and John Hancock in 1838.
George Hancock married Sophia (Gregory) in December 1839. They had 13 children.
The oldest, John Frederic Hancock (born April 1841), Emma Mary Hancock (later Withnell, born December 1842) and Fanny Louisa Hancock (born June 1848) were part of a group which struck out for the North West on the Sea Ripple in 1864, along with Emma's husband, John Withnell.
Their destination was Tien Tsin (which later became Cossack) but the journey was hazardous and much of their livestock was lost when the ship ran aground.
Despite the extreme hardship presented by the conditions and lack of water, they walked inland to build their home at what Emma called Mt Welcome, which eventually became the first town in the North West — Roebourne.
The family battled many obstacles early pastoralists faced including changing wool markets, cyclones, fire and droughts, and supplemented their income with pearling, a ferry service and butcher shop.
Emma Withnell often ran the station and also looked after the sick, and delivered babies.
Trusted by Indigenous residents she nursed and vaccinated many in a smallpox epidemic in 1866. She was a mother of 11 children herself and became known as "mother of the North West".
John Frederic Hancock returned to Perth in 1864 after helping to establish the party in the Roebourne area.
He arranged the leases for the Withnells' land and secured one for himself near Roebourne — which was to become Woodbrook Station.
In 1867 he married Mary Strange. After working between the North West and the Beverley area in various roles, in 1871 he and Mary (with their then two daughters) went to Andover Station where he took up the position of manager while he developed Woodbrook, where they moved in 1877.
Mary died in June 1884, leaving John with a family of eight children.
He had sold Woodbrook before Mary died, and purchased a share in Ashburton Downs. In 1889, John bought out the last member of the original partnership and was the sole owner until his death in August 1902. After his death, J.S.
Battye wrote of John Hancock:
"He may be described as one of Australia's grandest sons, a man with integrity, high courage, truthful as the light who never made an enemy and never lost a friend, and his claim to honourable mention among the band of pioneer heroes who opened up the country for those who followed them will readily be accorded and always remembered."
George Hancock was John and Mary's seventh surviving and second-youngest child, born in May 1882.
When their father died in 1902, George and his brothers Richard (Dick) and John went into partnership and continued to operate Ashburton Downs.
In 1908 he marred Lilian Prior.
They set up home on Ashburton Downs, but he eventually disposed of his share in the property to his younger brother John.
George took over management of Mulga Downs station and eventually took full ownersh . Under his management Mulga prospered.
He ultimately operated two other properties in the Pilbara as well, Hamersley Station (cattle) and Tambrey Station (sheep).
George's son Lang was born in 1909. He lived for a time on Ashburton before the family moved to Mulga Downs.
It is now well known that in 1952 he saw an outcrop of iron ore while flying his small aircraft over the Hamersley Range — effectively the start of the Pilbara iron ore industry which grew into what we know as Hancock Prospecting today.
Mrs Rinehart is the daughter of Lang Hancock and his then-wife Hope.
She spent her childhood in the Pilbara with her parents on large sheep and cattle properties, and later chose to leave university to work with her father, learning about iron ore operations in the Pilbara.
And the rest is history.
Her maternal grandfather James Nicholas initially began his side of the story in the Eastern States. He told The Sunday Times in 1925 that his father was a successful mining speculator in Victoria and the family later moved to NSW and his father "lost his health and fortune."
"So it was a case of me going to work," Nicholas said.
He had gone to work for Cobb and Co at Wagga Wagga, in the early 1870s, when he was "just a lad, and one of several in the big coaching stables there."
"My father was a good horseman and taught my brother and I to ride and drive pretty well, so I naturally turned to Cobb and Co. for a living. I, of course, had to begin at the bottom of the ladder and filled all the different occupations connected with coaching."
After working as a groom, coach driver (from the age of 15 out of Wagga) and agent, he worked his way up the ladder.
Later, he knew the gold rush in WA would mean there was a need for transporting mail, people, equipment, supplies — and gold.
He moved his mother and sisters to WA, borrowed money, and funded a 50-50 share in Cobb & Co, Western Australia.
A year later he bought out his partner, and expanded Cobb & Co dramatically, building roads necessary for his coaches over thousands of kilometres, and stables and inns necessary to enable Cobb & Co coaches to serve the gold and agricultural industries.
For many years his business was operated with Sidney Kidman (later Sir) as Kidman & Nicholas, and their operations ran into all the States except Victoria.
They had up to 1200 horses working to transport goods and acquired several stations together to keep the horses.
Kidman later became known as Australia's "cattle king", with vast holdings of station country greater in area than England.
In 2016 Hancock Prospecting sealed a majority joint venture purchase of S. Kidman & Co, reviving those early family links.
Nicholas' understanding of horses helped him set up a successful association with WA horseracing for over 30 years, as well as winning the Sydney Cup in 1919 and racing horses overseas.
Nicholas saw how the arrival of motor vehicles would change the coaching business, telling The Sunday Times the first time he saw a car in the outback was at Laverton.
"The car got along so well I could see the quick demise of all other methods of carrying traffic.
"So I at once began cutting big coaches down and making them into vans . . . I also disposed of horses and other coaching equipment as soon as possible, and began carrying on the business of Cobb and Co. per motor cars instead of the old methods," Nicholas said.
Nicholas saw buses in operation on visits to London, remodelled them to have a bigger wheelbase for Australian conditions and imported them for use here.
His vast land holding included Dirk Hartog Island.
Nicholas had four children, including Hope Margaret Nicholas (later Hancock), but died in 1929.
And the rest is, again, history.
Latest News
Heritage laws need careful study: Rinehart
Swimming Queensland secures long-term funding from Hancock Prospecting through to Brisbane Games
2GR and Bannister Downs Dairy | Exciting launch event for Hancock Agriculture!
Three Golds at World Cup II
Resources Top 5: Rinehart pulls the Mt Bevan farm-in trigger | Legacy Iron Ore (ASX:LCY)