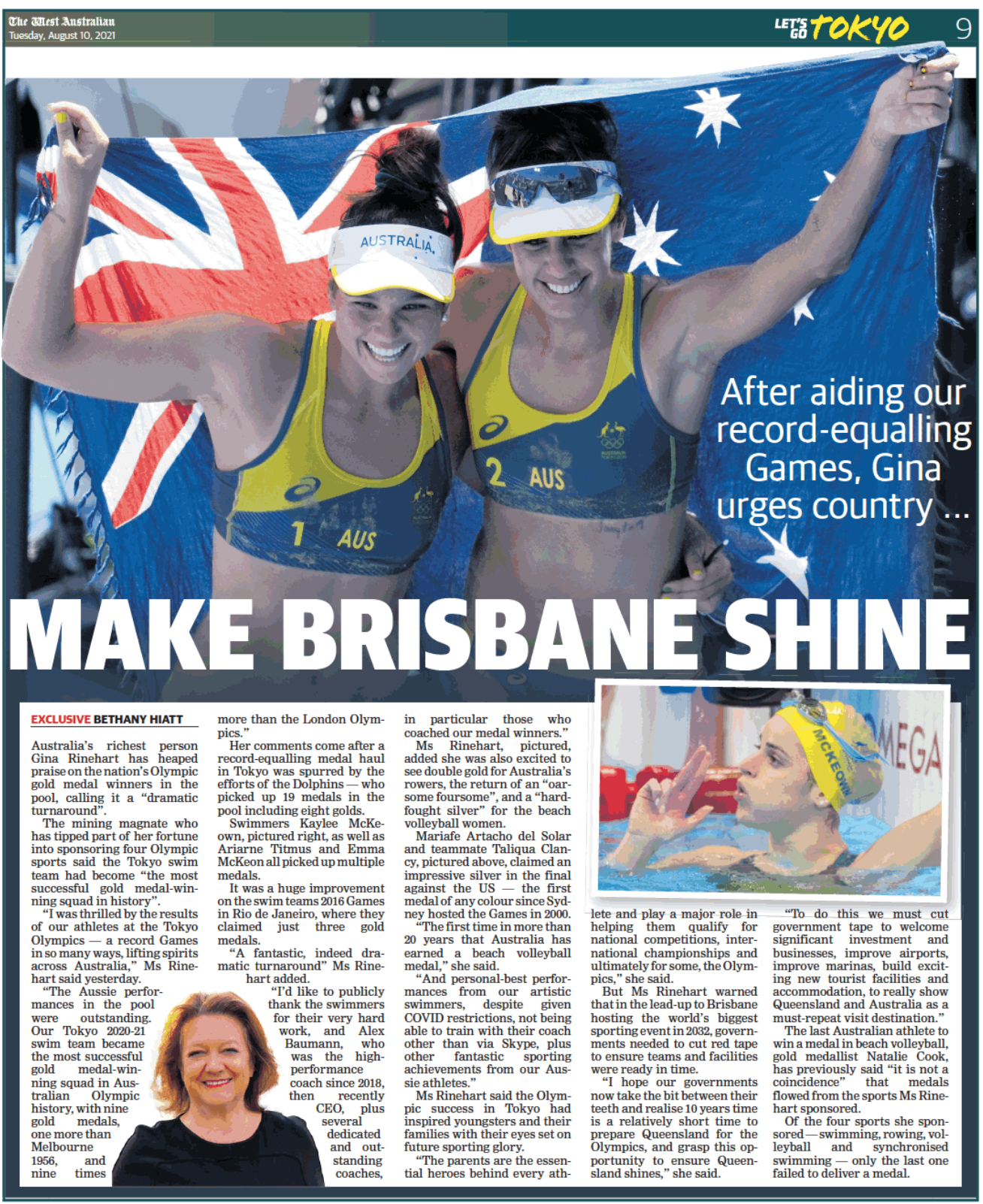 Article by Bethany Hiatt courtesy of the West Australian.
After aiding our record-equalling Games, Gina urges country …
Australia's richest person Gina Rinehart has heaped praise on the nation's Olympic gold medal winners in the pool, calling it a "dramatic turnaround".
The mining magnate who has tipped part of her fortune into sponsoring four Olympic sports said the Tokyo swim team had become "the most successful gold medal-winning squad in history".
"I was thrilled by the results of our athletes at the Tokyo Olympics — a record Games in so many ways, lifting spirits across Australia," Ms Rinehart said yesterday.
"The Aussie performances in the pool were outstanding. Our Tokyo 2020-21 swim team became the most successful gold medal-winning squad in Australian Olympic history, with nine gold medals, one more than Melbourne 1956, and nine times more than the London Olympics."
Her comments come after a record-equalling medal haul in Tokyo was spurred by the efforts of the Dolphins — who picked up 19 medals in the pool including eight golds.
Swimmers Kaylee McKeown, pictured right, as well as Ariarne Titmus and Emma McKeon all picked up multiple medals.
It was a huge improvement on the swim teams 2016 Games in Rio de Janeiro, where they claimed just three gold medals.
"A fantastic, indeed dramatic turnaround" Ms Rinehart added.
"I'd like to publicly thank the swimmers for their very hard work, and Alex Baumann, who was the highperformance coach since 2018, then recently CEO, plus several dedicated and outstanding coaches, in particular those who coached our medal winners."
Ms Rinehart, pictured, added she was also excited to see double gold for Australia's rowers, the return of an "oarsome foursome", and a "hardfought silver" for the beach volleyball women.
Mariafe Artacho del Solar and teammate Taliqua Clancy, pictured above, claimed an impressive silver in the final against the US — the first medal of any colour since Sydney hosted the Games in 2000.
"The first time in more than 20 years that Australia has earned a beach volleyball medal," she said.
"And personal-best performances from our artistic swimmers, despite given COVID restrictions, not being able to train with their coach other than via Skype, plus other fantastic sporting achievements from our Aussie athletes."
Ms Rinehart said the Olympic success in Tokyo had inspired youngsters and their families with their eyes set on future sporting glory.
"The parents are the essential heroes behind every athlete and play a major role in helping them qualify for national competitions, international championships and ultimately for some, the Olympics," she said.
But Ms Rinehart warned that in the lead-up to Brisbane hosting the world's biggest sporting event in 2032, governments needed to cut red tape to ensure teams and facilities were ready in time.
"I hope our governments now take the bit between their teeth and realise 10 years time is a relatively short time to prepare Queensland for the Olympics, and grasp this opportunity to ensure Queensland shines," she said.
"To do this we must cut government tape to welcome significant investment and businesses, improve airports, improve marinas, build exciting new tourist facilities and accommodation, to really show Queensland and Australia as a must-repeat visit destination."
The last Australian athlete to win a medal in beach volleyball, gold medallist Natalie Cook, has previously said "it is not a coincidence" that medals flowed from the sports Ms Rinehart sponsored.
Of the four sports she sponsored — swimming, rowing, volleyball and synchronised swimming — only the last one failed to deliver a medal.