Article by Daniel Newell courtesy of the West Australian.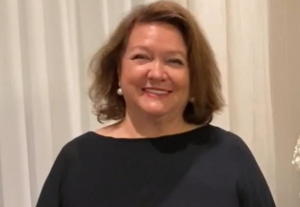 Mining billionaire Gina Rinehart is calling for changes to Australia's age pension system to help ease the nation's skill crisis by encouraging those who want to stay on in the workforce to remain employed without fear of financial penalty.
Mrs Rinehart made the comments as her Hancock Prospecting on Monday announced it had entered a $9 million joint venture deal with two junior WA explorers behind an emerging magnetite project east of Leonora in the northern Goldfields.
"Hancock recognises the shortage of staff Australia-wide disrupts many projects and delays supplies," Mrs Rinehart said.
"We are a supporter of the Government changing its policy where pension arrangements are concerned, so that pensioners can work should they so choose, without onerous tax resulting from their decision to work.
"Hancock is a very patriotic company that supports investment in Australia, primary industries and jobs in WA and Australia. When mining does well, Australia does well."
The Mt Bevan earn-in deal with partners Legacy Iron Ore and Hawthorn Resources will give Hancock Magnetite, a subsidiary of Hancock Prospecting, a 30 per cent interest in the project, which holds a 1.17 billion-tonne resource graded at 34.9 per cent iron.
Hancock will also cover pre-feasibility study costs to earn an additional 21 per cent interest.
Subject to the study result, further work programs will be conducted to undertake a feasibility study before a final investment decision is made to develop Mt Bevan.
Atlas Iron, which was bought by Hancock for $427m in 2018, has been appointed manager for the joint venture.
Hancock chief executive Garry Korte said Mt Bevan was an opportunity for Hancock to further grow its portfolio in the iron ore business with higher grade, lower impurity iron ore products.
"We look forward to working with the JV partners Legacy and Hawthorn to undertake the work programs and studies necessary to support a final investment decision," Mr Korte said.