Article by Perry Williams courtesy of the Australian.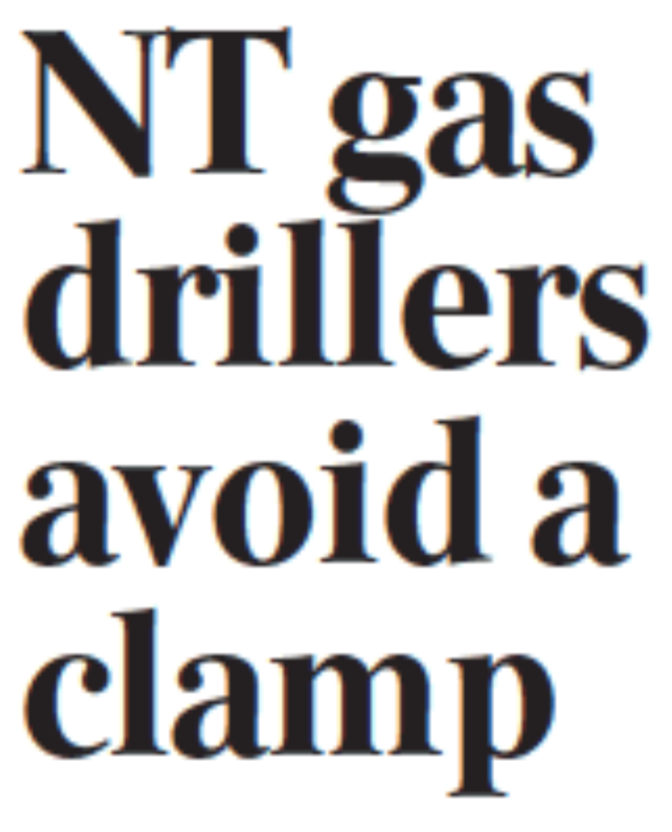 Energy explorers have avoided a potential crackdown on onshore gas development in the Northern Territory with Labor's Michael Gunner set to retain power following Saturday's election.
The Territory Alliance, headed by former Chief Minister Terry Mills, had vowed to block oil and gas fracking but the party's poor performance removed the biggest risk for energy companies embarking on major drilling campaigns over the coming months.
Mr Gunner has advocated for the NT to become a manufacturing and energy capital by tapping its vast gas resources although his Labor Party still faces a wait over whether it can form a majority government.
The main opposition party, the Country Liberals, also back the gas industry and won several seats. The main remaining uncertainty could come from green groups pressuring independents on the fracking issue should they end up with the balance of power.
Origin Energy and Santos are among two of the most high profile Australian producers working to prove up multi-billion dollar oil and gas resources in the NT although their activity has slowed amid COVID-19 market volatility.
Origin in March delayed its giant Beetaloo Basin gas project, 500km southeast of Darwin, which is being eyed as both a potential export opportunity and also a major contributor to east coast volumes. Drilling is set to resume again later this year.
Santos also deferred drilling two exploration wells in the onshore McArthur Basin beyond 2020 in response to the energy market rout earlier this year.
Origin chief executive Frank Calabria told The Australian before the election that he was conscious of the different community opinions over the gas sector while noting the Pepper inquiry had found the challenges and risks of the onshore gas industry could be carefully managed.
"There's a very, very tight regulatory regime that came out of the Pepper inquiry and we're working with that and government and we've received good support on that," Mr Calabria said on Thursday.
"There will always be some aspects of the community that have more concerns than others. But we feel that overall we have been getting good support in the Territory and we'll continue to work building the trust and confidence of those that may have reservations."
Santos chief executive Kevin Gallagher said NT projects including Darwin LNG could help boost the local economy, noting plans to invest further in assets it bought from US major Conoco-Phillips in northern Australia.
"I believe people want jobs and they want investment in their communities and if that's important to people then they'll vote accordingly to get an outcome which supports that," Mr Gallagher also said on Thursday.