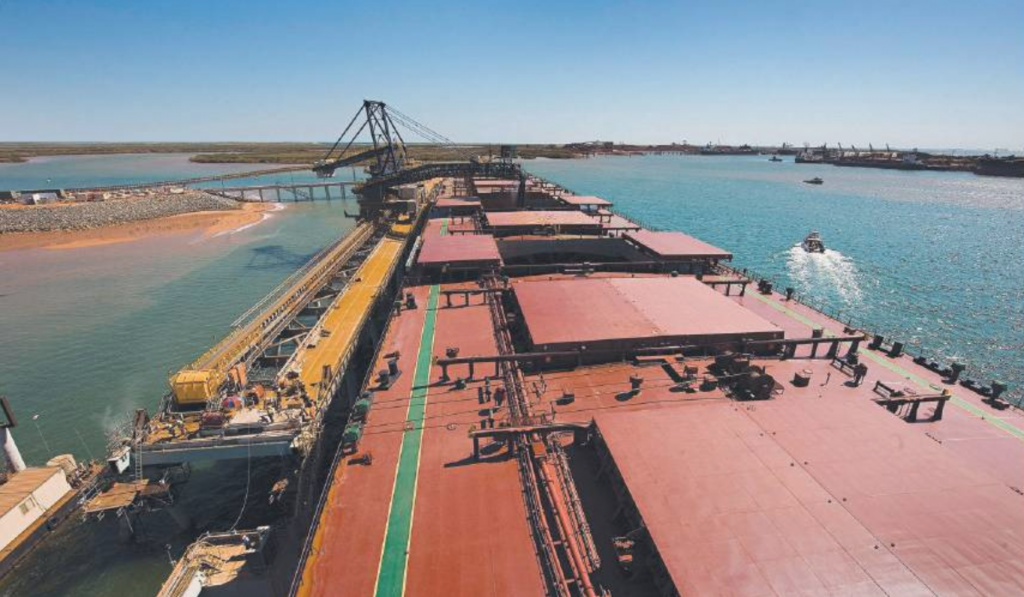 Australia's $100bn iron ore industry is at risk of a significant slowdown as the sector's recordbreaking run hangs on the WA government's willingness to allow a tiny group of about 20 highly specialised workers to cross state borders to work.
The state government's latest border crackdown has left mining companies scrambling to protect the route into WA for key FIFO workers needed to pilot the massive ships that carry iron ore out of Port Hedland and Dampier, the export terminals used by mining giants BHP, Rio Tinto, Fortescue and Gina Rinehart's Roy Hill.
Only about 30 marine pilots are licensed to navigate the narrow shipping channels at the ports, and it takes two to three years of training to win the right to do so. The Australian understands the majority of those pilots live outside of WA, in Melbourne, Queensland, NSW and Tasmania.
The government of Premier Mark McGowan has cracked down on the use of fly-in fly-out workers in the mining industry since Victoria's second coronavirus wave, and Mr McGowan has said he believes the use of interstate FIFO workers needs to end for the duration of the pandemic.
His government has now removed exemptions that allow FIFO workers on regular rosters to be listed as "specialist workers", putting the marine pilot's ability to enter the state in the hands of the WA police, who are believed to have told industry this week that all FIFO workers will now be forced to quarantine on entry to WA, and may be denied permission to travel if they do not have plans to move to WA.
Police enforcement of WA's border rules has already been criticised for its lack of transparency and flexibility, and it is believed at least one marine pilot has recently been barred entry from WA despite having the required permission to travel and work.
Mr McGowan confirmed on Thursday that recent changes to FIFO exemptions in WA had "impacted the very limited pool of specialist port authority workers who fly in from over east".
"A temporary arrangement that provides a controlled quarantine environment for these pilots to be able to work is in place. This will ensure the port continues to operate at strength," he said.
"A review of the arrangements will occur to ensure best health practice is followed, but the state government will do everything it can to keep our ports running at full capacity, while balancing the health needs of our community."
But sources say that, although a number of the pilots have agreed to relocate to WA, others are unwilling or unable to do so for family reasons.
With their skills also in high demand at major ports on the east coast, it is believed a number of pilots are considering withdrawing their services from the Pilbara, or have already done so, putting pressure on rosters already stretched by rising export volumes.
Sources say the loss of even a few pilots adds to the pressure on the remaining workers, putting the iron ore sector at risk of a snowball effect that could materially slow export volumes.
While there is no concern that exports from Pilbara ports could suddenly halt, each vessel that leaves the ports carries ore worth about $US30m, at current prices.
Bulk carriers leaving Pilbara ports can only do so at high tide, and the Port Hedland shipping channel is so shallow that a fully laden iron ore carrier can have as little as 25cm between its keel and the bottom of the harbour.
Only seven or eight of the largest class of bulk carriers can leave Port Hedland on each tide. Any pilot shortage that caused the regular loss of even one vessel movement each tide would slash iron ore exports by more than 10 per cent — enough to materially impact the financial results and share price of any of the major iron ore producers if it persisted.
A spokesman for the WA Chamber of Minerals and Energy said it was continuing to work with the state government on the issues surrounding interstate FIFO workers.
"CME understands ongoing restrictions on interstate travel into WA have resulted in some teething problems which have had to be addressed. CME and its members have worked closely and productively with the WA Government throughout the COVID-19 pandemic to keep the sector performing strongly and we expect this to continue in the future," he said.
Fortescue chief executive Elizabeth Gaines said the industry had already demonstrated it could successfully manage cross-border travel during the pandemic.
"We believe a science-based approach to resources sector border exemptions has been very successful for WA and it is important for our people, for the community and the economy that we continue to adopt this approach," she said.
"This includes ensuring that there is access to specialist skills to continue to ensure our strong exports continue."