Article by Dorcas Wong courtesy of China Briefing.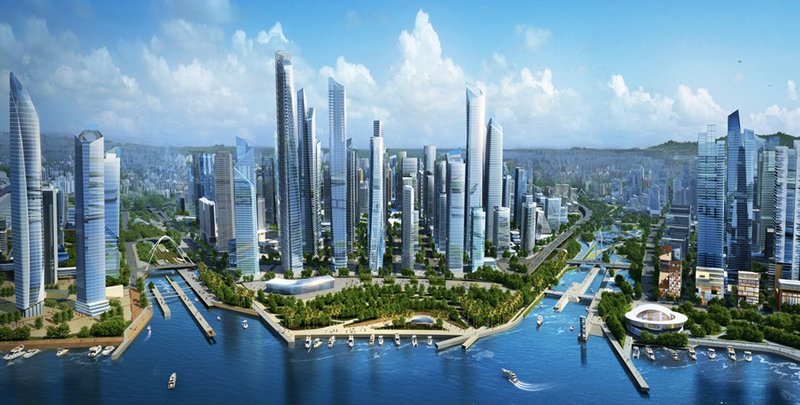 The Guangdong-Hong Kong-Macao Greater Bay Area (the GBA) is a national initiative aimed at building a world-class city cluster in Southern China. As highlighted by the Chinese government's 13th Five-Year-Plan, it is a key driver of the country's technology ambitions, market opening reforms, and facilitator of the Belt and Road initiative.
The region comprises of nine cities in the Pearl River Delta (Shenzhen, Guangzhou, Foshan, Dongguan, Zhuhai, Zhongshan, Huizhou, Zhaoqing, Jiangmen), and two administrative regions (Hong Kong and Macao).
Made up a population of over 70 million people, the GBA contributes to more than one-tenth of China's economy and is home to tens of thousands of enterprises in multiple industries and sectors.
Under the GBA plan, the region will be established as a globally competitive, connected, and innovative mega-region by 2035. Already, at the end of 2019, the GDP reached US$1.68 trillion, and its GDP per capita was US$23,371.
The Outline Development Plan for the Greater Bay Area
Released in 2019, The Outline Development Plan for Guangdong HK Macao Greater Bay Area ("the GBA Outline Development Plan") is a blueprint to transform the Pearl River Delta (the PRD) from the factory of the world to a global center for advanced manufacturing and innovation, financial services, transport and logistics, trade, and tourism and leisure.

The GBA Outline Development Plan plays a crucial role in how China will achieve its next stage of economic development, as it not only increases the value adding capabilities of the economy but boosts internationalization within the region.
This integration will further prop China's infrastructure and connectivity programs like the Belt and Road Initiative as well as strengthen the supply chain industry in higher-tech manufacturing and services.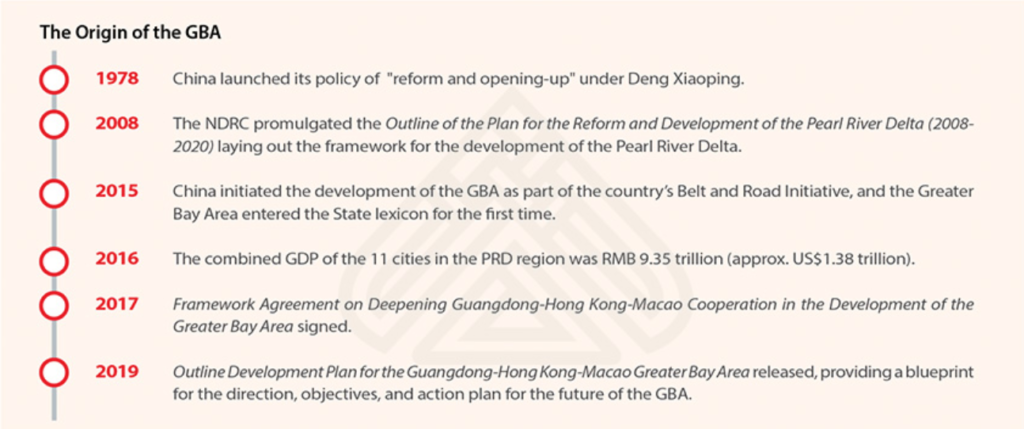 Strategic priorities underpinning the GBA
Developing an international innovation and technology hub
Technology has been key to the region's rapid growth, evolving from 'factory to the world' in the first phase (1980 – 2010) to becoming the epicenter of technology in the past 10 years.
Hong Kong – with some of the world's leading research universities – along with Shenzhen – the tech hub that rivals Silicon Valley – are both leading the charge in these innovation building plans.
The GBA Outline Development Plan commits to accelerating the future growth of new pillar industries, including new-generation information technology, biotechnology, high-end equipment manufacturing and new materials, and pledges to step up the protection of IP protection mechanisms.
Infrastructure connectivity
The GBA spans 56,000 sq km, and has a well-developed port industry with Shenzhen, Hong Kong, and Guangzhou all home to cargo ports ranked in the world's top 10. There are five international airports and Hong Kong, Guangzhou, and Shenzhen all rank among the top 10 airports with highest passenger traffic.
The GBA thus focuses on optimizing the flow of people, goods, information, and capital within the region. As outlined by the plan, the GBA will build a modern comprehensive transport system, upgrade the existing information infrastructure, improve water infrastructure, and develop an energy security protection system. This optimized regional coordination and industrial structure will drive the development of neighboring regions.
Developing a globally competitive business environment
Hong Kong's business environment is consistently ranked among the top in the world, holding third place in the 2020 World Bank Doing Business Report. Mainland China meanwhile moved up 47 spots to rank 31 in the world.
The GBA Outline Development Plan emphasizes the need to continue to build a first-class business environment which is stable, fair, transparent, and predictable. The challenge is not only to encourage advancements to the business environment, but also to coordinate these efforts between three different legal systems, economic structures, and currencies.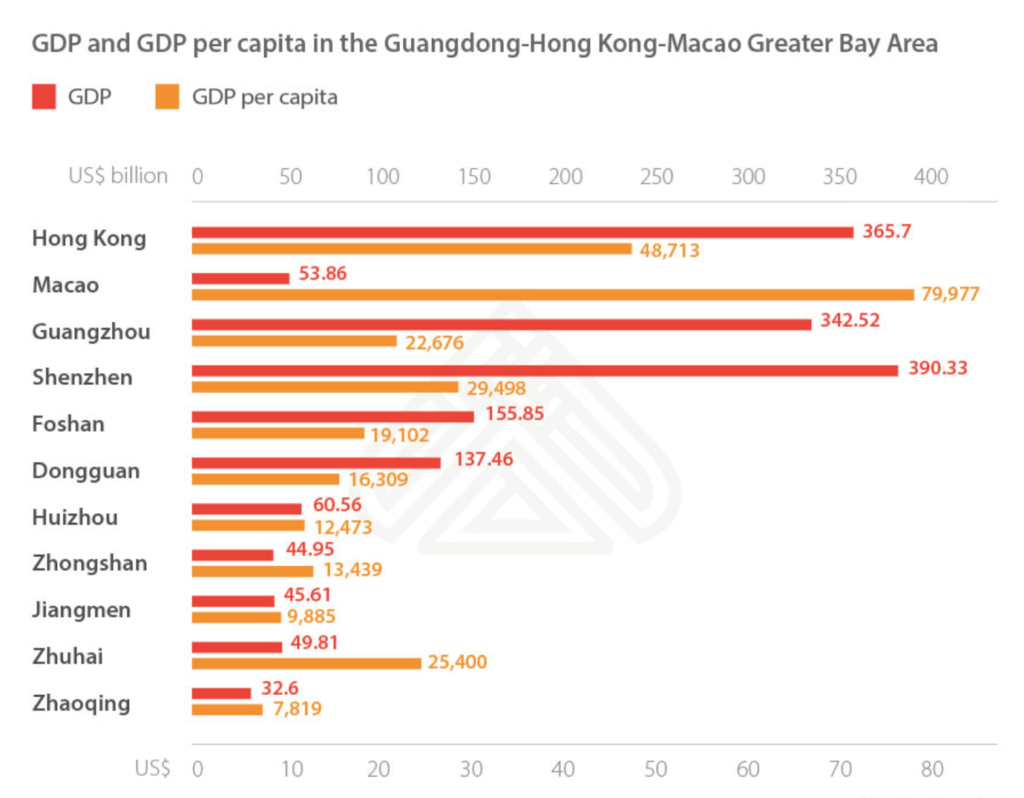 Zooming in on the Greater Bay Area
The Greater Bay Area is comprised of four core cities, seven city nodes, and three New Area development zones. The GBA Outline Development Plan details a strategy of shifting from intra-regional competition to collaboration through the development of productivity clusters, which will emphasize each city's respective industry focus and resource endowment to achieve complementary synergies.

Unlike other bay areas around the world, the GBA's industrial diversification will allow it to compete in multiple sectors on a world-class level. For example, Hong Kong is known as a world financial center; Shenzhen is known as China's Silicon Valley because of its innovation and startup culture; Guangzhou is known for its manufacturing industry and as a logistics hub; and Macao and Zhuhai are known for leisure and tourism.
Four core cities: Guangzhou, Shenzhen, Hong Kong, Macao
Hong Kong
Hong Kong is a special administrative region of China, previously under British rule. Hong Kong is one of the most international cities in the GBA. It has a business-friendly environment, good tradition of the rule of law, free economic system, and well-established information technology infrastructure and financial system, as well as a wealth of high-end talents and professional services with extensive knowledge on global markets.
Under the GBA Initiative, Hong Kong is expected to drive the GBA's next stage of growth. Its status as a global financial hub will help the GBA in developing its financial and professional services. Its internationally recognized R&D centers will also play a pivotal role in developing the GBA's innovation and technology industries.
Shenzhen
Located in Guangdong province only 100 km southeast of its capital, Guangzhou, Shenzhen is strategically located on the Pearl River Delta that serves as a border with Hong Kong. Often dubbed China's Silicon Valley, Shenzhen is China's fastest-growing city. As of 2018, four percent of Shenzhen's GDP was invested into research and over 11,000 high-tech enterprises called the city home.
Under the GBA Development Outline, the city will continue to leverage its leading role as a special economic zone, a national economic core city, and a national innovation city to expedite its transformation into a modern and international city and strive to become a capital of innovation and creativity with global influence.
Guangzhou
Guangzhou, the capital city of Guangdong province, is an important political, economic, industrial, and cultural center in the South China region. Located north of Hong Kong, Macao, and the South China Sea, Guangzhou has long served as the southern gate of mainland China. As the origin of the ancient Chinese Maritime Silk Road, it was the oldest foreign trading port in mainland China and the only one that has never been closed.
Under GBA plan, Guangzhou is growing into a global transport hub, trade center, and a science and technology innovation center. The Guangdong Free Trade Zone will make the region more open to international investment in the targeted industries. In 2020, Guangdong also rolled out a blueprint to develop the Guangzhou artificial intelligence and digital economy pilot zone. By 2030, the pilot zone will become a development hub for digital industry clusters, providing strong support for the Digital Silk Road.
Macao
Macao is a special administrate region located on the western side of the Pearl River estuary, 60 km across the sea from Hong Kong. As the first European colony of East Asia in 1553, it was historically a major port for global commerce. Nowadays, Macao's gambling and junket industry make up the backbone of its economy. Macao's tax rate is also one of the lowest in the region, and the city enjoys unlimited foreign exchange and claims its own customs territory.
Macao's responsibilities as part of the GBA include promoting business cooperation with Portuguese-speaking countries and its image as a multicultural Chinese city to the world. It has created a Macao Young Entrepreneur Incubation Center to aid its young workforce to take advantage of new favorable hiring policies for young locals in the GBA.
The Three New Areas of the Guangdong Pilot Free Trade Zone
Guangdong Pilot Free Trade Zone (FTZ) was formally approved by the State Council and established on December 31, 2014. After five years of development, it has become a regional economic powerhouse with a high standard legal environment and efficient regulations that promote and facilitate trade and investment.
There are three major New Areas in Guangzhou, Shenzhen, and Zhuhai under the Guangdong FTZ, which have become hot destinations for foreign investors to incorporate their businesses.
Guangzhou Nansha New Area
Nansha New Area has seven functional zones and covers a total area of 60 square kilometers, including the 7.06 square-kilometer Nansha Bonded Port. Residing in the heart of the GBA, Nansha New Area prioritizes strategic emerging industries, including shipping and logistics, advanced manufacturing, financial service, tourism, and healthcare.
A series of landmark reforms have been put in place here, including the Business Registration Confirmation System, the Global Traceability system, and the Global Declaration Service System.
Shenzhen Qianhai-Shekou Area
Qianhai, the only Shenzhen-Hong Kong modern service industry cooperation zone, is near two major international airports and seaports – Hong Kong and Shenzhen. In 2019, the economy of Qianhai Cooperation Zone grew rapidly. The added value of the four leading industries (finance, modern logistics, information services, and sci-tech services) accounted for 84 percent of the total GDP.
Being a cooperation zone, pilot free trade zone and bonded port area all rolled into one, it follows policies shared by all pilot free trade zones across the country, but also has its own unique policies which include 22 pilot policies in finance, fiscal taxation, law, human resources, education, medical care, and telecommunications.
Zhuhai Hengqin New Area
Hengqin is a 106.46 square-kilometer coastal island tucked into the southern corner of the city of Zhuhai in Guangdong province. Because it is adjacent to Macao, which is no more than 200 meters away, the island has been selected as a New Area to enhance economic ties with Hong Kong and Macao.
Hengqin puts priority on sci-tech innovation, modern financing, health care, tourism and exhibition, cross-border trade, and professional services. Preferential policies apply to areas such as customs clearance, tax, personnel, talent recruiting, finance, and informatization.
Seven city nodes of the GBA
Beyond the flagship cities, the GBA is also home to seven other cities in the mainland – Dongguan, Foshan, Huizhou, Jiangmen, Zhaoqing, Zhongshan, and Zhuhai. While some of them hold certain acclaim within the country, most have little name recognition outside China.
In the following table we summarize the respective areas of development and in the seven remaining cities, including industrial and service sectors and key infrastructure linkages.
From an investor's standpoint, the growth potential of these under-reported cities is sizeable and growing. For businesses interested in investing in the GBA, understanding these lesser-known cities can offer you a deeper look at the overall trajectory of the GBA's development plan and can equip you with the necessary knowledge to tap into the advantages and emerging priorities held within.