Article courtesy of Proactive Investors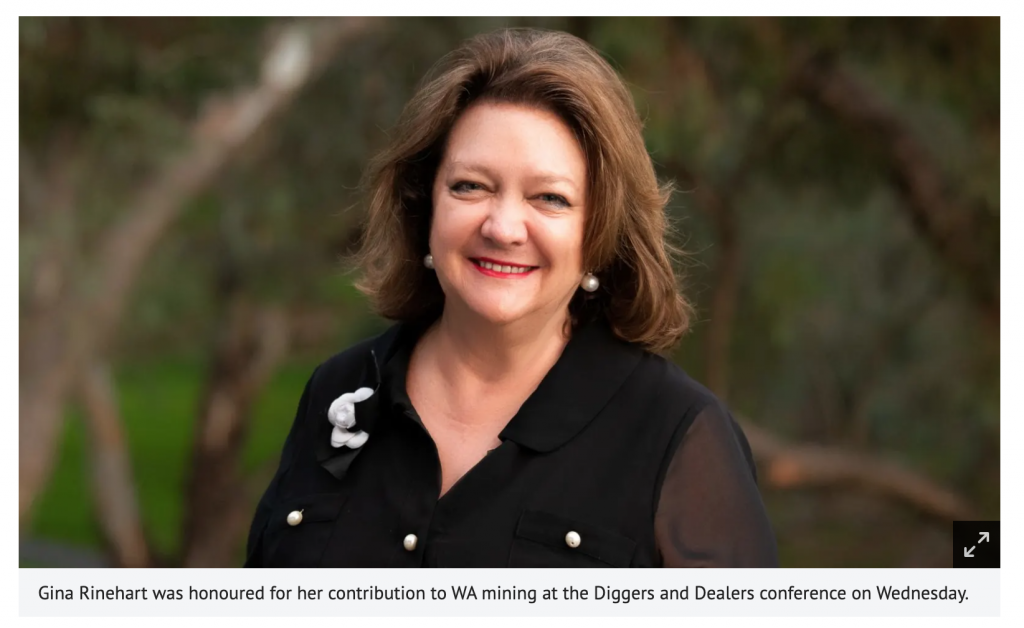 The awards presentation wound up another successful Diggers and Dealers despite COVID-19 restrictions seeing the event moved from August to October and restricting attendance to those from the home state.
Australia's richest person Gina Rinehart has made history, becoming the first woman to take out the GJ Stokes Memorial Award at Kalgoorlie's Diggers and Dealers mining forum.
Named after late forum founder Geoffrey Stokes, the award is given to someone who has made an exceptional lifetime contribution to the Australian mining industry.
And the Hancock Prospecting owner is as big as it gets in the WA resources sector, having been a top tip for the award for years before her crowning at Wednesday night's gala dinner at the Goldfields Arts Centre.
Event overcomes challenges
The award wound up another popular Diggers and Dealers forum which was moved from August to October owing to COVID-19 restrictions. The border restrictions also resulted in the annual event being solely attended by those from Western Australia.
Now boasting an estimated $21.2 billion fortune, Mrs Rinehart was born in Perth but spent a considerable amount of time as a young woman at her parents' sheep and cattle stations in the Pilbara.
She took over the chair at her father Lang Hancock's company in 1992 following his death, subsequently forming a plan to turn the financially struggling exploration vehicle around.
Mrs Rinehart organised a state agreement to secure the Hope Downs tenements in the Pilbara, forming a joint venture with mining giant Rio Tinto in 2005 that took the project into production within two years.
She is now the primary owner of the privately-owned Roy Hill mine, a 55 million tonnes per annum operation in the Pilbara that employs more than 2,000 people.
Her selection was the sole win for the iron ore sector in a year dominated by the excitement generated by record gold prices and booming Australian gold production.