Article by Paul Garvey courtesy of the Australian.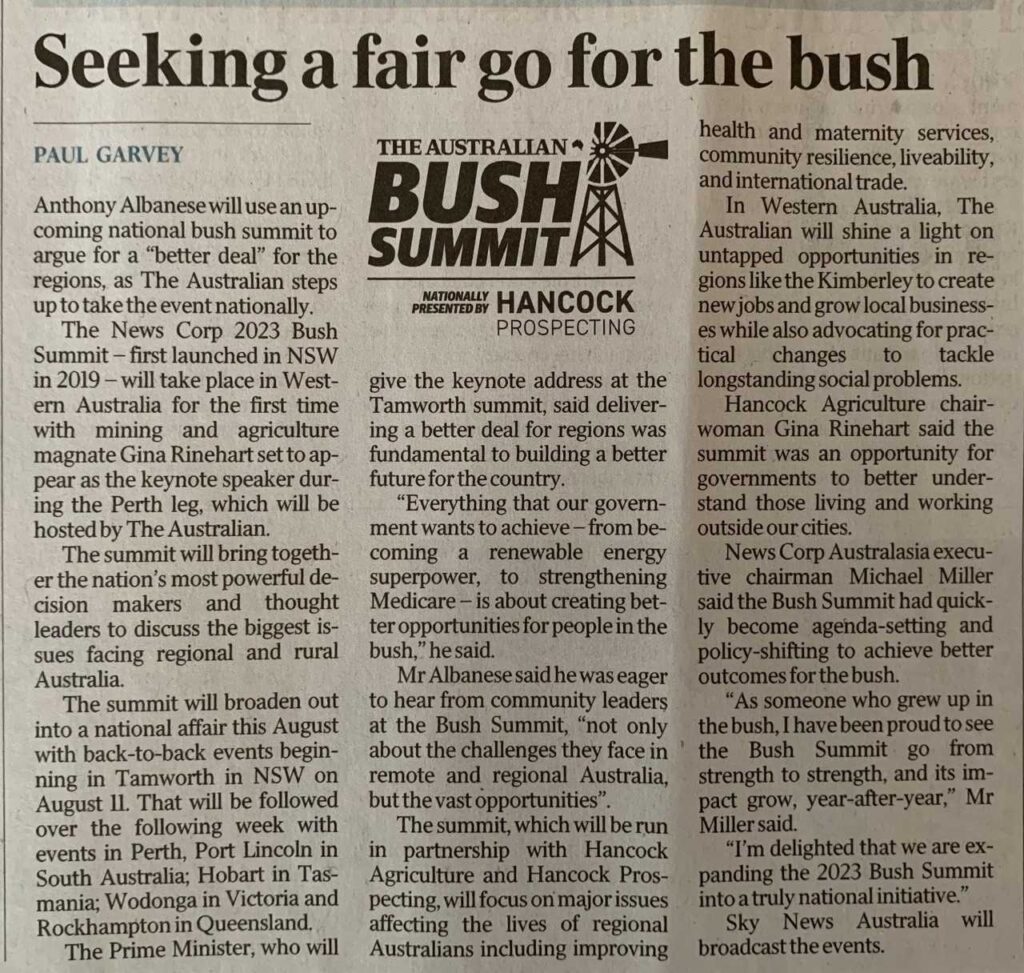 Anthony Albanese will use an upcoming national bush summit to argue for a "better deal" for the regions, as The Australian steps up to take the event nationally.
The News Corp 2023 Bush Summit – first launched in NSW in 2019 – will take place in Western Australia for the first time with mining and agriculture magnate Gina Rinehart set to appear as the keynote speaker during the Perth leg, which will be hosted by The Australian.
The summit will bring together the nation's most powerful decision makers and thought leaders to discuss the biggest issues facing regional and rural Australia.
The summit will broaden out into a national affair this August with back-to-back events beginning in Tamworth in NSW on August 11. That will be followed over the following week with events in Perth, Port Lincoln in South Australia; Hobart in Tasmania; Wodonga in Victoria and Rockhampton in Queensland.
The Prime Minister, who will give the keynote address at the Tamworth summit, said delivering a better deal for regions was fundamental to building a better future for the country.
"Everything that our government wants to achieve – from becoming a renewable energy superpower, to strengthening Medicare – is about creating better opportunities for people in the bush," he said.
Bush summit to 'shine a light' on regional Australia
Mr Albanese said he was eager to hear from community leaders at the Bush Summit, "not only about the challenges they face in remote and regional Australia, but the vast opportunities".
"It's a simple principle: whenever we listen to locals, we get better results and value for money," he said.
"That's true for everything from infrastructure to education, disaster recovery to renewables."
The summit, which will be run in partnership with Hancock Agriculture and Hancock Prospecting, will focus on major issues affecting the lives of regional Australians including improving health and maternity services, community resilience, liveability, and international trade.
In Western Australia, The Australian will shine a light on untapped opportunities in regions like the Kimberley to create new jobs and grow local businesses while also advocating for practical changes to tackle longstanding social problems.
Hancock Agriculture chairwoman Gina Rinehart said the summit was an opportunity for governments to better understand those living and working outside our cities.
"Eighty-five per cent of Australians live in large urban locations, but we should not forget the engine room of our country, that being outside the cities in mining and agriculture and all of those who work in our bush," she said.
"They in turn make possible jobs for the many businesses the primary industries support; the truckies, the shops, even accountants, legals, tax advisers and many more."
News Corp Australasia executive chairman Michael Miller said the Bush Summit had quickly become agenda-setting and policy-shifting to achieve better outcomes for the bush.
"As someone who grew up in the bush, I have been proud to see the Bush Summit go from strength to strength, and its impact grow, year-after-year," Mr Miller said.
"The fact that federal, state and local members from all sides of politics have invested the time to participate each year, is testament to this summit's reputation and the importance we all recognise and support regional Australia
"I'm delighted that we are expanding the 2023 Bush Summit into a truly national initiative with our state mastheads and The Australian and The Weekly Times advocating simultaneously for all regional Australians."
"Together they will explore the opportunities and challenges of their regional communities, as the Bush Summit grows to become an important national initiative."