Article by Paul Starick courtesy of the Herald Sun.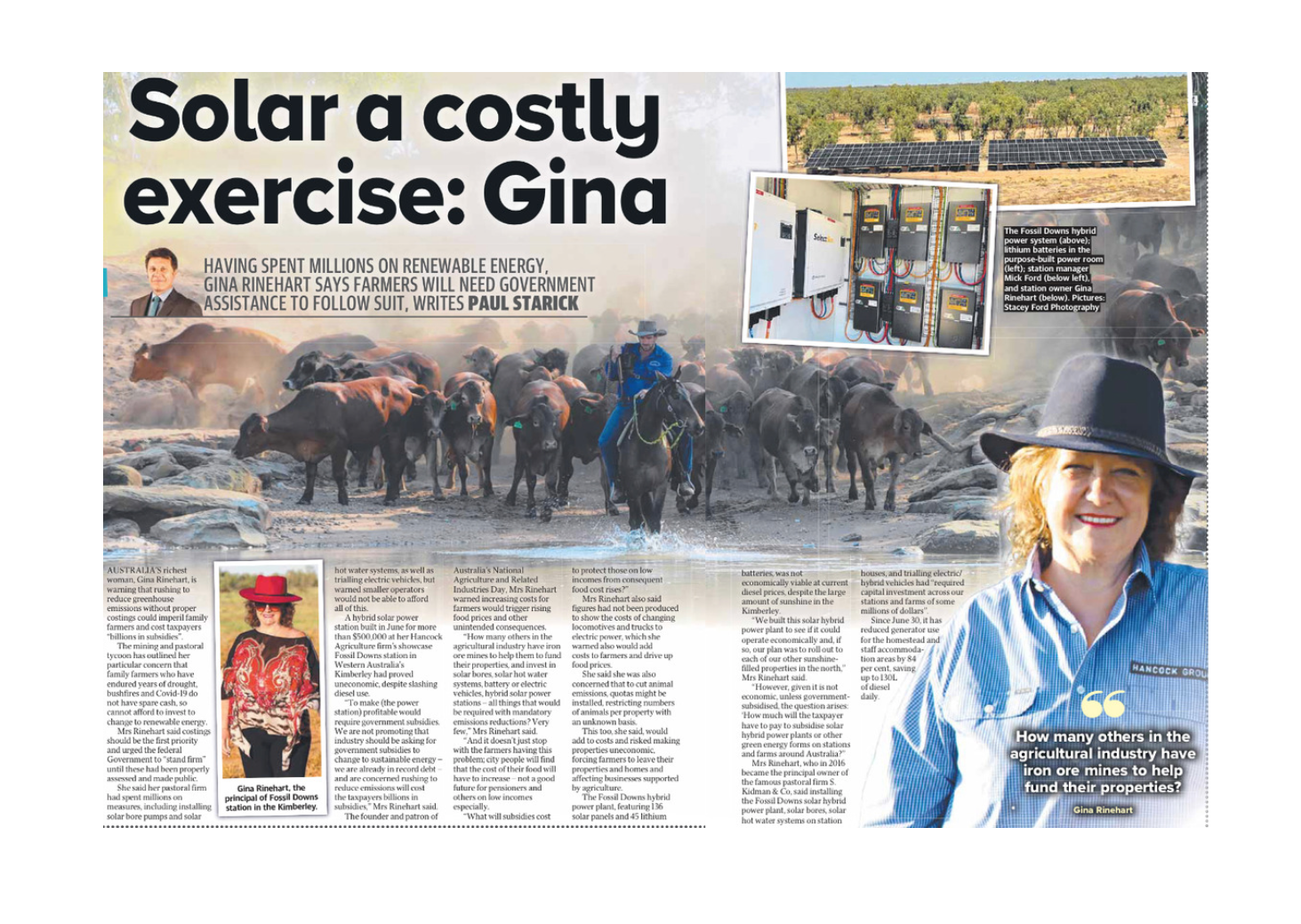 HAVING SPENT MILLIONS ON RENEWABLE ENERGY, GINA RINEHART SAYS FARMERS WILL NEED GOVERNMENT ASSISTANCE TO FOLLOW SUIT, WRITES PAUL STARICK
AUSTRALIA'S richest woman, Gina Rinehart, is warning that rushing to reduce greenhouse emissions without proper costings could imperil family farmers and cost taxpayers "billions in subsidies".
The mining and pastoral tycoon has outlined her particular concern that family farmers who have endured years of drought, bushfires and Covid-19 do not have spare cash, so cannot afford to invest to change to renewable energy.
Mrs Rinehart said costings should be the first priority and urged the Federal Government to "stand firm" until these had been properly assessed and made public.
She said her pastoral firm had spent millions on measures, including installing solar bore pumps and solar hot water systems, as well as trialling electric vehicles, but warned smaller operators would not be able to afford all of this.
A hybrid solar power station built in June for more than $500,000 at her Hancock Agriculture firm's showcase Fossil Downs station in Western Australia's Kimberley had proved uneconomic, despite slashing diesel use.
"To make (the power station) profitable would require government subsidies.
We are not promoting that industry should be asking for government subsidies to change to sustainable energy we are already in record debt and are concerned rushing to reduce emissions will cost the taxpayers billions in subsidies," Mrs Rinehart said.
The founder and patron of Australia's National Agriculture and Related Industries Day, Mrs Rinehart warned increasing costs for farmers would trigger rising food prices and other unintended consequences.
"How many others in the agricultural industry have iron ore mines to help them to fund their properties, and invest in solar bores, solar hot water systems, battery or electric vehicles, hybrid solar power stations all things that would be required with mandatory emissions reductions? Very few," Mrs Rinehart said.
"And it doesn't just stop with the farmers having this problem; city people will find that the cost of their food will have to increase not a good future for pensioners and others on low incomes especially.
"What will subsidies cost to protect those on low incomes from consequent food cost rises?" Mrs Rinehart also said figures had not been produced to show the costs of changing locomotives and trucks to electric power, which she warned also would add costs to farmers and drive up food prices.
She said she was also concerned that to cut animal emissions, quotas might be installed, restricting numbers of animals per property with an unknown basis.
This too, she said, would add to costs and risked making properties uneconomic, forcing farmers to leave their properties and homes and affecting businesses supported by agriculture.
The Fossil Downs hybrid power plant, featuring 136 solar panels and 45 lithium
batteries, was not economically viable at current diesel prices, despite the large amount of sunshine in the Kimberley.
"We built this solar hybrid power plant to see if it could operate economically and, if so, our plan was to roll out to each of our other sunshine-filled properties in the north," Mrs Rinehart said.
"However, given it is not economic, unless government-subsidised, the question arises: 'How much will the taxpayer have to pay to subsidise solar hybrid power plants or other green energy forms on stations and farms around Australia?" Mrs Rinehart, who in 2016 became the principal owner of the famous pastoral firm S. Kidman & Co said installing the Fossil Downs solar hybrid power plant, solar bores, solar hot water systems on station houses, and trialling electric/ hybrid vehicles had "required capital investment across our stations and farms of some millions of dollars".
Since June 30, it has reduced generator use for the homestead and staff accommodation areas by 84 per cent, saving up to 130L of diesel daily.
How many others in the agricultural industry have iron ore mines to help fund their properties?

Gina Rinehart