Article by Greg Brown courtesy of the Australian.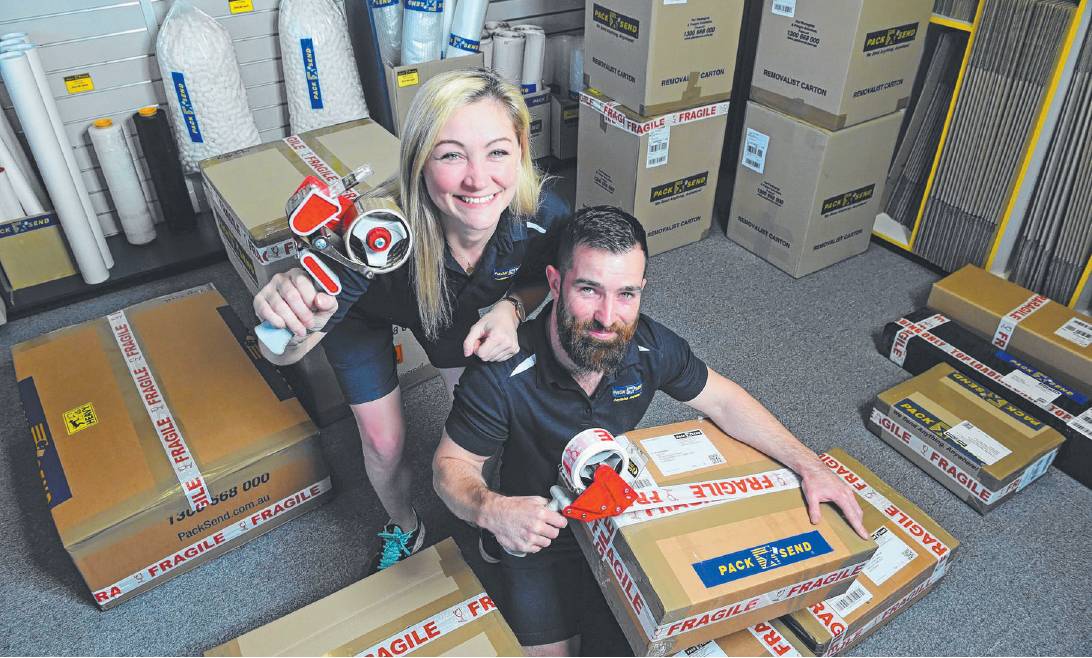 Dimity and Lewis Brown get to work at their Pack & Send postal franchise in Townsville, where they moved to in June
Nationals minister Bridget McKenzie will develop a population policy to encourage businesses and families to move to the bush as she outlines a vision for Australia to be the home of "great inland regional cities" underpinned by vibrant industries.
Senator McKenzie, who became Regionalisation Minister in the June cabinet shake-up after Barnaby Joyce's return as Nationals leader, said Covid-19 was driving "once-in-a-century" structural change in the way people were living, with net migration to the regions of 45,000 in the year to March.
"They are not grey nomads, they are not surfers, they are actually families seeking a lifestyle change plus the career opportunities that that obviously brings," Senator McKenzie said.
"Urban Australians are joining us and they are joining us in their thousands. I'm wanting to capitalise on that.
"Over the coming decades I want to see great inland regional cities as a result of our government's contribution at this time."
Senator McKenzie, whose return to the cabinet came after a nearly 18-month stint on the backbench for her role on the socalled sports rorts scandal, said she believed there were regional cities that could one day be home to more than a million people, identifying Townsville, Toowoomba in Queensland and Wagga in southern NSW as among towns with strong growth prospects.
With the Nationals securing an agriculture visa to source farm workers from Southeast Asia, Senator McKenzie flagged plans for a broader population policy to encourage more migrants to regional Australia.
"I think we need to have a regional focus on population policy," she said.
"To attract (urban-based) people to the regions you … have got to have a skilled workforce that is matched to the place and diverse economies.
"We are not just going to get the level of skill set and population in these areas through domestic migration alone.
"I will be working with the Treasurer on that."
With past decentralisation policies revolving around moving government departments from Canberra to the regions, including when Mr Joyce moved the chemical and pesticides regulator to his electorate of New England in 2016, Senator McKenzie said her plans would focus on creating private-sector employment and diversifying the economies of the regions.
"When you look globally, whether it is Canada, the US, Europe, the UK, they have been able to have a spread of population and economic opportunity that is much more decentralised (than Australia). So I think we can emulate that," she said.
"Not by a decentralisation policy where we shift public servants from government agencies out into country towns. But where we flip that model, identify the unique competitive advantage of the region, and use that to attract people … but also businesses who are keen to relocate if we get the infrastructure piece right.
"Government doesn't create jobs. And that is why I am working very closely with the Business Council of Australia, with other industry bodies to ensure that government can identify those gaps of infrastructure, do that analysis, identify the competitive advantage, and then facilitate funding options."
Lewis and Dimity Brown moved from Adelaide to Townsville in June and are running a Pack & Send postal services branch. Mr Brown said he was enjoying the lifestyle in Townsville, including the weather, business opportunities and the sense of community.
"I do like the community aspect of it being a smaller town," Mr Brown said. "In peak hour traffic I can drive through the middle of the CBD and get through it in 10 or 15 minutes."
Senator McKenzie said, while mining and agriculture would remain strong economic drivers for the regions, industries such as IT would be part of the plan to diversify employment.
"We know that tech can go anywhere," she said.