Article by Adrian Lowe courtesy of the West Australian.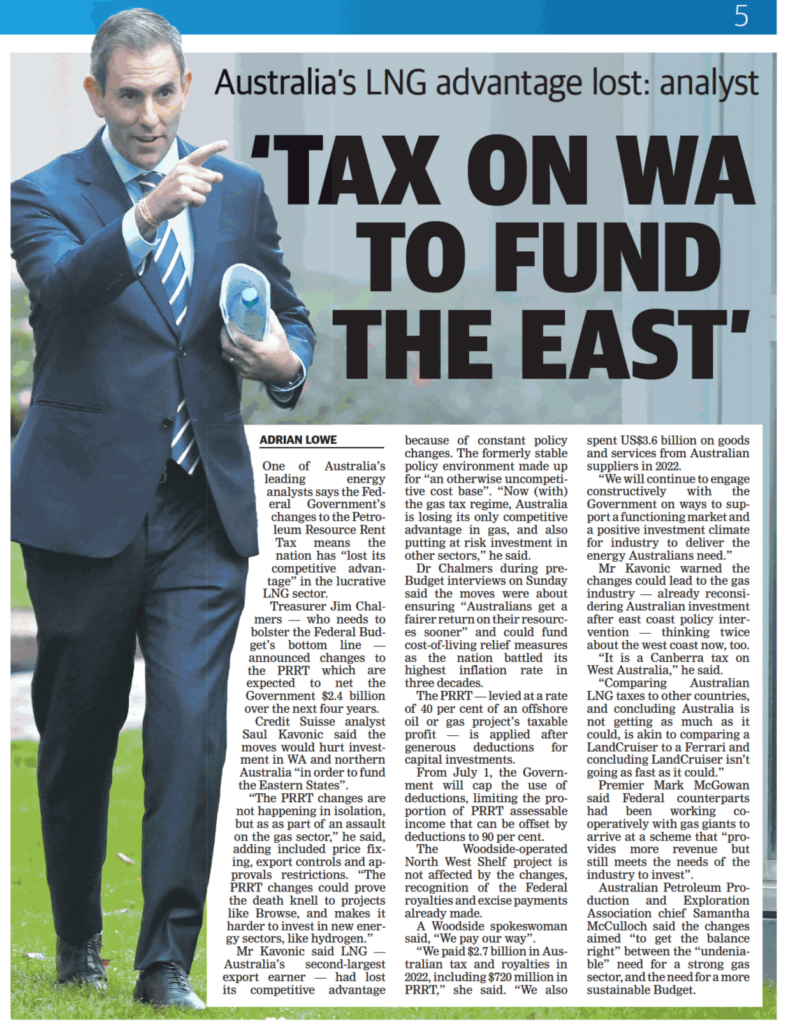 One of Australia's leading energy analysts says the Federal Government's changes to the Petroleum Resource Rent Tax means the nation has "lost its competitive advantage" in the lucrative LNG sector.
Treasurer Jim Chalmers — who needs to bolster the Federal Budget's bottom line — announced changes to the PRRT which are expected to net the Government $2.4 billion over the next four years. Credit Suisse analyst Saul Kavonic said the moves would hurt investment in WA and northern Australia "in order to fund the Eastern States".
"The PRRT changes are not happening in isolation, but as as part of an assault on the gas sector," he said, adding included price fixing, export controls and approvals restrictions. "The PRRT changes could prove the death knell to projects like Browse, and makes it harder to invest in new energy sectors, like hydrogen." Mr Kavonic said LNG — Australia's second-largest export earner — had lost its competitive advantage because of constant policy changes. The formerly stable policy environment made up for "an otherwise uncompetitive cost base". "Now (with) the gas tax regime, Australia is losing its only competitive advantage in gas, and also putting at risk investment in other sectors," he said.
Dr Chalmers during pre-Budget interviews on Sunday said the moves were about ensuring "Australians get a fairer return on their resources sooner" and could fund cost-of-living relief measures as the nation battled its highest inflation rate in three decades.
The PRRT — levied at a rate of 40 per cent of an offshore oil or gas project's taxable profit — is applied after generous deductions for capital investments.
From July 1, the Government will cap the use of deductions, limiting the proportion of PRRT assessable income that can be offset by deductions to 90 per cent.
The Woodside-operated North West Shelf project is not affected by the changes, recognition of the Federal royalties and excise payments already made.
A Woodside spokeswoman said, "We pay our way".
"We paid $2.7 billion in Australian tax and royalties in 2022, including $720 million in PRRT," she said. "We also spent US$3.6 billion on goods and services from Australian suppliers in 2022.
"We will continue to engage constructively with the Government on ways to support a functioning market and a positive investment climate for industry to deliver the energy Australians need."
Mr Kavonic warned the changes could lead to the gas industry — already reconsidering Australian investment after east coast policy intervention — thinking twice about the west coast now, too.
"It is a Canberra tax on West Australia," he said.
"Comparing Australian LNG taxes to other countries, and concluding Australia is not getting as much as it could, is akin to comparing a LandCruiser to a Ferrari and concluding LandCruiser isn't going as fast as it could."
Premier Mark McGowan said Federal counterparts had been working cooperatively with gas giants to arrive at a scheme that "provides more revenue but still meets the needs of the industry to invest".
Australian Petroleum Production and Exploration Association chief Samantha McCulloch said the changes aimed "to get the balance right" between the "undeniable" need for a strong gas sector, and the need for a more sustainable Budget.