Article by Patrick Commins courtesy of the Australian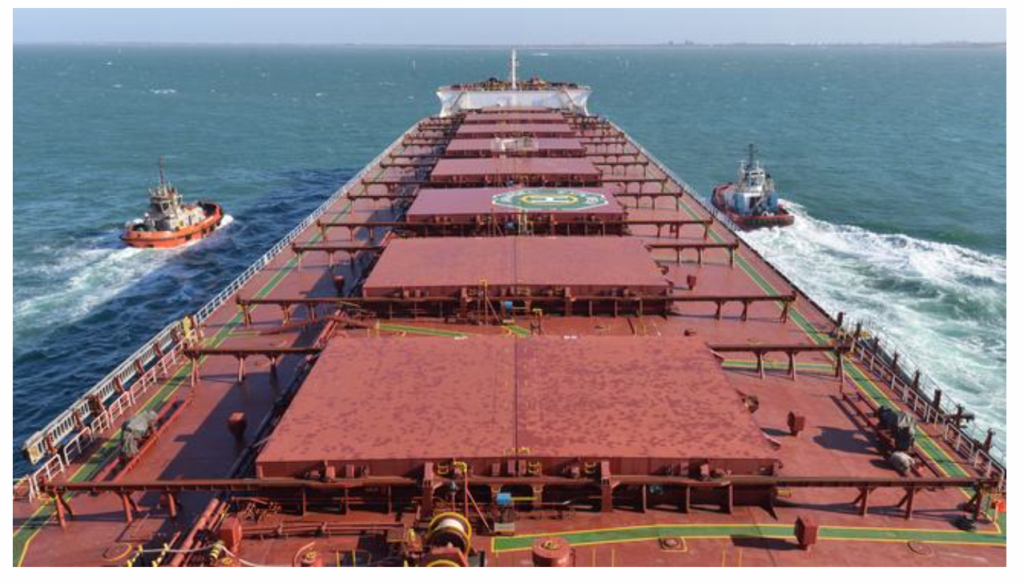 Australia's trade surplus reached a record $73bn in 2020, propelled by surging iron ore sales and a slump in demand for imported goods through the COVID-19 crisis.
Australia has recorded three years of uninterrupted monthly trade surpluses, notching $5b more last year than in 2019, and more than triple the $22.5bn posted in 2018.
The latest figures from the Australian Bureau of Statistics also showed that net exports reached $6.8bn in December, an increase from the $5bn recorded in the previous month and the strongest since June.
Bumper winter crops following the break of drought on the east coast drove a 75 per cent jump in the export of cereal grains, which reached record levels in December. Wool exports also lifted 13 per cent for the month, while rural goods sales climbed 18 per cent overall.
Commonwealth Bank of Australia senior economist Belinda Allen said the "historic" trade numbers reflected soaring iron ore export earnings over the past two years, as well as the boost from the emergence of the liquefied natural gas export sector from around the middle of 2018.
"Trade surpluses are largely here to stay," Ms Allen said.
The immense trade surplus has helped underwrite windfall profits for miners, and bolstered the federal government's coffers.
But Ms Allen said it had also contributed to a climbing dollar, and was therefore largely responsible for the Reserve Bank committing $200bn in recent months to lowering longer term interest rates — a policy aimed at putting downward pressure on the currency.
Weak demand for imports, from households and businesses over the past two years, have also contributed to the unprecedented trade outcomes.
Consumption of foreign-made goods was dampened by a soft economy through 2019, as low wages and sub-par economic growth contributed to anaemic spending by both households and businesses. The COVID-19 recession, particularly during the ­initial national lockdown, then ­delivered a shock to demand through 2020.
Trade figures over recent months, however, have shown a jump in spending on imported consumption goods as Australians emerged from lockdowns and confidence in the economic recovery has grown.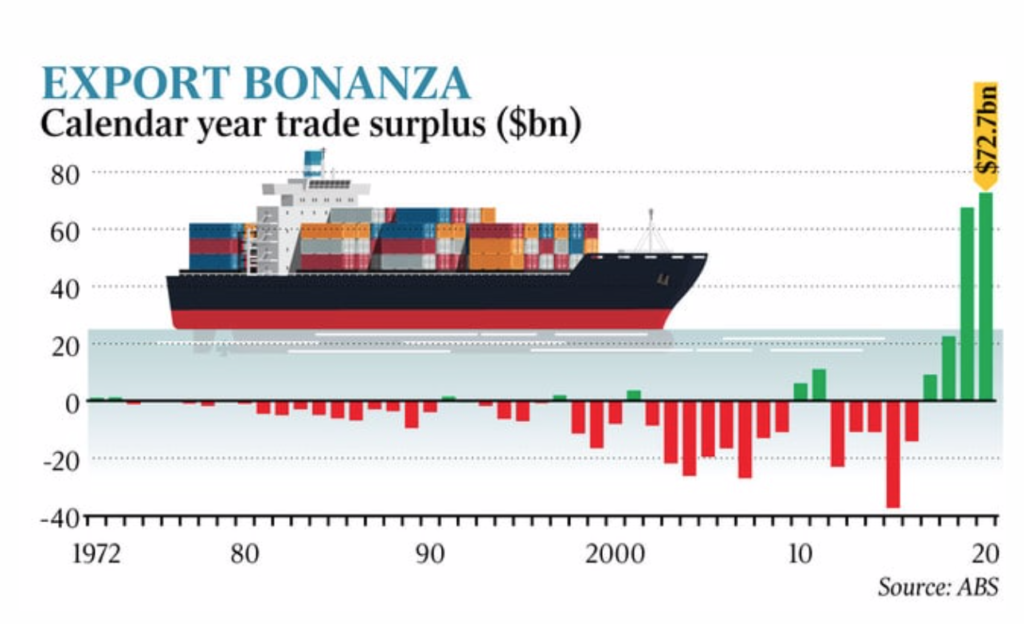 Australians spent a record $9.9bn in December on foreign-made items such as cars, clothing and footwear and electrical goods, the data showed, or 13 per cent more than a year earlier.
Spending by businesses, too, may pick up in the coming year. Investment and capital spending plans at the end of 2020 jumped to their highest levels since before the global financial crisis, according to the latest National Australia Bank business survey.
The ABS data showed the devastating impact of border closures on businesses reliant on international travel. Tourism made up less than 7 per cent of Australian exports in December, versus 15 per cent pre-pandemic.
The booming trade surplus came despite a chill in relations with our largest trading partner, China, which slapped a variety of restrictions on Australian goods.
"Our No 1 export, iron ore, hasn't been touched (by trade ­actions), and that's not going to change," Ms Allen said.
Still, a recent fall in the price of the steelmaking ingredient from its recent highs of more than $US170 a tonne to about $US150, suggested "the wave of euphoria that lifted iron ore prices to record highs has ebbed," ANZ senior commodity analyst Daniel Hynes said.